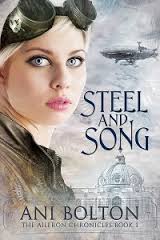 So here I am on Friday morning, and unusually for me, I did not have my post written in advance. From unpacking and catching up from my two week vacation, I've moved into Trying-Not-To-Panic Mode while getting ready to send off my oldest to college. So maybe I'll talk some more about things I enjoyed during vacation—with a tiny bit of Regency interest thrown in.
One thing I love about vacation is having more time to read. One of the many books I enjoyed over break is Steel and Song, the first in a new steampunk series by Ani Bolton. I've been intrigued by the idea of steampunk but hadn't actually read anything before this. I was caught up by the world-building and the compelling characters.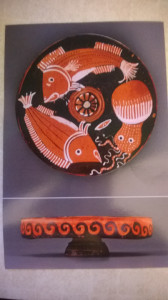 After the Club Med interlude, I spent a few days in Orlando with my husband's family and visited two museums. Among the offerings at the Tampa Museum of Art was an exhibit on "Poseidon and the Sea: Myth, Cult and Daily Life" .  I saw some lovely and intriguing ancient objects and realized how much my daughters knew about the mythology (their interest sparked by Rick Riordan's Percy Jackson and the Olympians series). Some of the depictions of ladies in the exhibit reminded me again of the influence of the classics on the Regency. Not only did Regency ladies often wear classically-inspired clothing and hairstyles, the way they were depicted in fashion prints–that straight line from forehead to nose–resembles ancient depictions of women.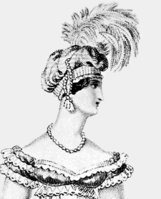 Later, I visited the Morse Museum in Orlando, which houses "the world's most comprehensive collection of works by Louis Comfort Tiffany (1848–1933)". It was a feast for the eyes and I highly recommend it for anyone who loves art and/or needs a break from theme parks.
So what have you enjoyed this summer?  Any good summer reads?
Elena
www.elenagreene.com