First, let me congratulate Vona! You've won an ebook of your choice of my titles (see the list at my Risky Books page). I'll be sending you an email. If you don't receive it for any reason, feel free to email me at elena @ elenagreene.com (no spaces).
Now to today's post.
Once again Jane Austen's making the rounds in the news and social media.
Mary Balogh shared this image of the Pride and Prejudice Bookbench in the "Books About Town" series. More on the P&P bench here and the whole series here.
While I love the idea, I agree with Mary Balogh that this particular bench could have been better executed. I don't object to the cartoony style overall, but it feels a little too crude for me, the layout feels a bit random and why don't we get an image of Darcy? I love many of the other benches (Mrs Dalloway, Peter Pan and more) so I wish this one were as good.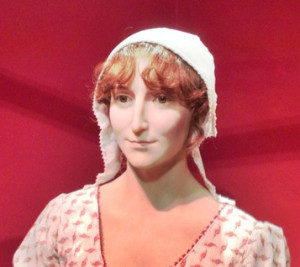 Here's something I did like. The Jane Austen Centre has just unveiled a new waxwork of Jane Austen, said to be based on forensic research and contemporary eyewitness accounts. I was a little surprised to see the gingery hair. The description says it's brown so I wonder if it's the lighting. The nose definitely looks Austen-ish. (I remember reading that Jane's mother prided herself on her Roman nose.) And she looks intelligent and in possession of a good sense of humor, which feels right. Read more about the waxwork here.
So what do you think of the Pride and Prejudice Bookbench? Did you like any of the others? How about the Jane Austen waxwork?
Elena
www.elenagreene.com