When I was in New York City for the Romance Writers of America annual conference, one of the highlights was a trip to the Metropolitan Museum of Art with a group of friends, fellow members of the Beau Monde and Regency writers all. We spent the whole day in the museum.
First priority was a special exhibit on The Art of London Firearms, featuring firearms collected by The Prince Regent, later George IV.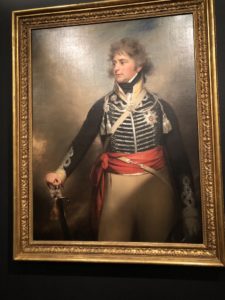 This 1789 portrait by Sir William Beechey opened the exhibit. And, according to the Met, the Prince Regent was an excellent shot and an avid collector of firearms.
Here is a set of the Prince's dueling pistols and their description: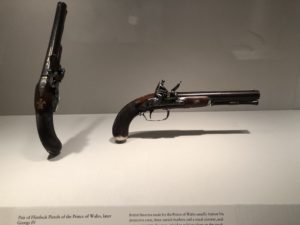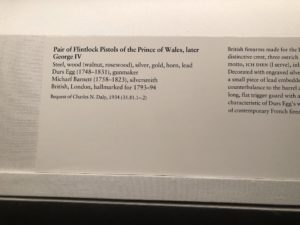 A nice surprise at this exhibit was this 1815 gentleman's navy wool tailcoat.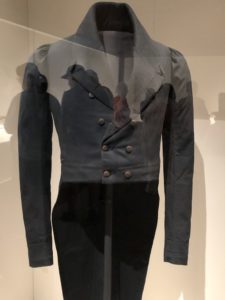 Next we wound up in a musical instruments section of the museum and among other beautiful instruments, we saw this early Italian pianoforte (1740) by the inventor of the pianoforte, Bartolomeo Cristofori.
On to the painting exhibits, there were surprisingly few items of British art, but there were these two treasures: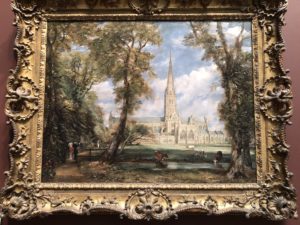 Turner is one of my favorite British artists, so that was a real treat.
After a lovely, relaxing lunch in the fine dining room of the museum, we went in search of the room from Lansdowne House in London that Victoria Hinshaw said was acquired by the Met and on display. What a treat, we thought, to be able to see something she'd just talked about in her presentation on London mansions for the Beau Monde conference the day before. We walked through room after room of mostly French stuff until finally asking one of the museum guards. Turns out it was removed for renovation! Here, though, is what we might have seen, courtesy of Laurie Benson, my fellow Harlequin Historical author.
That was it!!! After a visit to the gift shop we were off to dinner!