In haste today since I have a visitor, and we're going out for fun very soon. Here are some terrific things I've found online recently which are great for research or, as it is known, wasting time online:
The Metropolitan Museum of Art has opened up its archives of images from the collection. Great stuff!
Here's the VADS (Visual Arts Data Service) collection which takes some wading through since you can't search by century. I particularly liked this collection of trades and services material.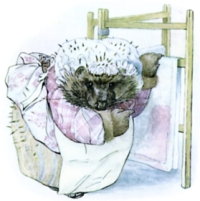 oldandinteresting.com is a wonderful resource for the history of household items like Mrs. Tiggywinkle's clotheshorse.
Want to make a Regency bonnet? Here's a free tutorial.
And here are step by step instructions for making a Regency cap, which I may try in the next week for an event at which I have to put on the Regency drag. I haven't sewed anything in years. It should be interesting. If it's successful I may post about it. If you're in the Washington DC area, check out the Afternoon of Austen Fashion on November 15 at Riversdale House Museum. Registration is still open.
Have you found any interesting sites online recently? Or, like me and the sewing, are you planning to revive any lost skills?