How did you fall in love with historical romance stories, as a genre? Last weekend's "Fall Back in Time" campaign had a lovely nostalgic twist to it when people posted photos of beloved old historical romances that set them on the path to addiction –oh, wait, I mean, that introduced them to the genre.
Those included Jane Austen novels and the now-classic Kathleen Woodiwiss romances like The Flame and the Flower, as you might expect, but also a huge range of other books and authors. We writers never know when one of our own stories may serve as the "gateway" book for a new historical fiction fan's addiction. Of course, we take a kind of evil delight when that happens. Hooked another one! Heh-heh. It's a lovely validation of what we do.
Readers seem to fall into one of three camps with how their interest started. Where do you fit? Did you discover historical fiction first, perhaps in childhood? Or did you discover romance novels first, then the historical ones as a subgenre? Or did you find historical romance as a new type of story to love, all at once?
I fit into that first category, hooked on historical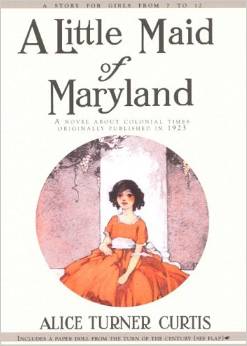 fiction very early. As a young reader I devoured the "Little Maid" series written by Alice Turner Curtis (American history). Originally published in the 1920's, those fired up my imagination and influenced some of my early attempts at writing. I was lucky to have a mom who knew about them. Despite how dated the writing seems now, I would still buy the reissues on Amazon if I had any young girls in my family! From there, I loved to read any story that was set before the 20th century.
Then there was Earthfasts by William Mayne. It mixed contemporary and historical time, fantasy and reality and the supernatural, and it is set in the Dales in England –who could resist a book like that? I still take this book out and re-read it from time to time, still plunged right into the story by Mayne's vivid writing.
I stumbled upon Pride and Prejudice on the library shelves (I do so miss browsing, don't you?) in 7th grade. Even though I didn't understand half of it at the time, I couldn't get enough. The combination of historical setting with romance mixed in was intoxicating. I started reading my mother's copies of Mary Stewart and Victoria Holt/Phillippa Carr, and then I discovered Barbara Cartland. (I know.) I read everything. I was on a quest. But the Regency time-setting very quickly became my favorite, along with authors like Edith Layton, Mary Jo Putney, Joan Wolfe and Mary Balogh. Now my list has too many authors on it to name them all!
So, what authors got you started, and how did you start? Who were your favorites? I'd love to know. If you want to post pictures, we might be able to have some of the discussion over on our Riskies' Facebook page, which I tend to forget about. But please comment here first, and then let us know if you are going to post there! In the meantime, happy reading!!