When you look at surviving copies of 19th-century periodicals (typically bound in volumes) today, you will perhaps notice a distinct lack of advertisements. Ads were printed on the wrapper (the cover) of single issues as well as on additional pages, and when periodicals were privately bound into volumes, the wrappers and the pages with ads were typically thrown away. Some magazines, like PUNCH, released annual or bi-annual volumes of their publication as special keepsakes – and these didn't contain any ads either.
So imagine my delight when earlier today I stumbled across a volume of PUNCH on Google Books that not only consists of individual issues bound together, but has also retained most of the wrappers with ads.
*squee*
The issues are all from 1874, which means that thanks to changes in taxation and technological improvements, the ads all look very different from what you would have found in periodicals in the early decades of the century. By 1874, many ads came with pictures or with interesting typography.
There wasn't any particular order to them, so Howard's Parquet Flooring stood side by side with anchovy preparations, the latest novels (such as TAKEN AT THE FLOOD by Mary Elizabeth Braddon), or Thomson's Unbreakable Corset Busk.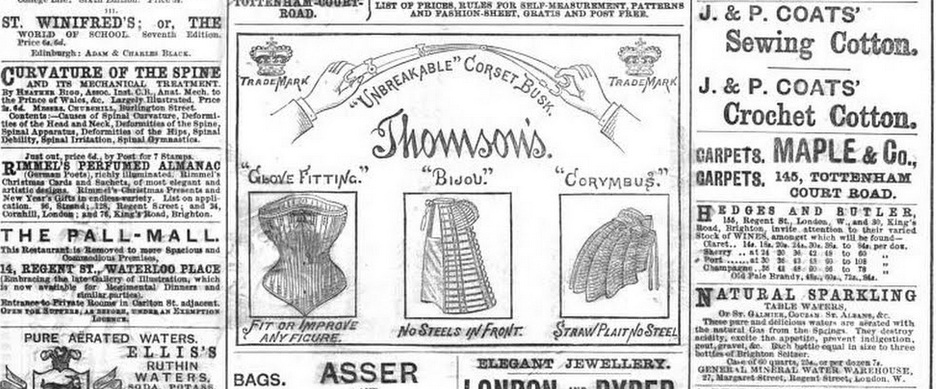 In the early decades of the 19th century, by contrasts, ads tended to be text only, and they were very short and to the point. The reason for this was the tax on paper and the tax on ads. The latter was a reaction to social unrest: the government believed that there was a connection between ads and politics. On the other hand, most periodicals couldn't survive without the income from ads. Indeed, it is thought that the majority of radical publications folded due to a lack of advertisers.
As the political climate changed, the tax on ads was first reduced in 1833 and was finally abolished in 1853. The tax on paper, however, remained in place until 1861, keeping paper expensive and forcing publishers and advertisers to be economical with the space on paper. Hence, illustrated ads as seen in the examples here in this post, only started to appear with regularity after the repeal of the paper tax, and the following decades are often referred to as the Golden Age of advertising.