I got a bit of good news last week. NAL is going to reissue my Christmas novella Upon a Midnight Clear in October! This first appeared in the Regency Christmas Magic anthology, and now gets new life along with 3 other random novellas (though I don't know what they are). I am very excited about this, as UAMC was one of my favorite stories I did at Signet, the tale of an injured Naval captain and a reclusive Jamaican woman who find love and new life together on a chilly Christmas in Cornwall.
I always really looked forward to the Signet Christmas anthologies. There's just something cozy and fun about Regency+Christmas! I get out my collection every holiday season and pile them up by the tree. Whenever the crazy season gets to me, I curl up with a cup of tea and an old favorite story. That sounds nice on a 90+ degree day like this one.
In other news, May 31 is the 199th anniversary of the death of composer Joseph Haydn (1732-1809). Though he was a native of Austria, and spent most of his career in the service of the Esterhazy family, following them as they moved from palace to palace, he did enjoy some very productive visits to England between 1791 and 1794.
In 1790, Haydn's employer Prince Nicolas Esterhazy died and was succeeded by a thoroughly un-musical prince who fired the whole musical establishment and put Haydn out to pasture with a pension. Haydn was then able to accept a lucrative offer from Johann Salomon, a German impresario, to visit England and conduct new symphonies with a large orchestra.
These visits were a huge success, with audiences flocking to Haydn's concerts. Charles Burney wrote of the first concert, "Haydn himself presided at the pianoforte; and the sight of that renowned composer so electrified the audience, as to excite an attention and a pleasure superior to any that had ever been caused by instrumental music in England."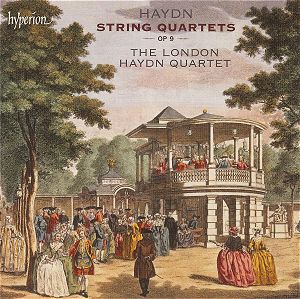 Haydn was also inspired to create some of his best-known works, such as the Surprise, Military, Drumroll, and (of course!) London symphonies, the Rider quartet, and the "Gypsy Rondo" piano trio.
So, in honor of Christmas coming early, what are some of your favorite holiday traditions? Or some favorite pieces of music (holiday or otherwise?)