I am excited about two things to share with you! First, I can –FINALLY!! –tell you that the "new, improved" version of The Magnificent Marquess has a release date! May 15. (Cue the fireworks?)
I have worked on the revisions for months and months –it started to look like the improvement project that would never end. But I am happy with the final results, and delighted to share them.
This book was originally published in 1998, so a lot of readers out there now never caught the first version. Just as well. This one is longer, so it is able to have greater character depth across the spectrum and even some new characters! The plot hasn't changed, exactly, but I think it got more interesting.
I also love my new cover. How can anyone resist a hero with these amber eyes?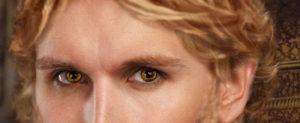 But if you think those look a trifle haunted, you would be right. The Marquess of Milbourne may be newly arrived in London from India, immensely wealthy and handsome as sin, but he's a wounded soul with a broken heart. I am a sucker for wounded hero stories!
The blurb: When all of London is enthralled by the newly-arrived Marquess of Milbourne, Mariah Parbury's curiosity about his life in India undermines her resistance to his charm. Could he possibly care for her? But he has enemies. When dangerous secrets emerge about him, is she willing to risk her life as well as her heart for the chance of love?
"…a fascinating web of piquant romance and spine-tingling danger guaranteed to take your breath away."—Romantic Times Magazine
I don't have buy links yet, but the book will be available on all the usual ebook sources such as Amazon, Barnes & Noble, and Smashwords for the other connections to iBooks, etc.
That said, are there any Dr Who fans out there reading this? Episode #3 of the new season that aired in the U.S. last weekend was set at the London Frost Fair of 1814!!! Just heavenly having the good doctor and his new assistant/"boss" running around in Regency dress among all the hoi polloi at the fair. The episode, titled "Thin Ice" of course involved so much more, but if you haven't seen it I won't spoil it by saying anything more. Just always happy to see our period used (when done well) as a setting for popular TV!! This great episode tribute painting was done by Thomas Chapman, who is apparently a huge Dr Who fan. You can see more of his artwork on Facebook at: https://www.facebook.com/thomaschapmanartworkandgraphics/  Want to know more about the frost fairs? Nice general background article at Radio Times: http://www.radiotimes.com/news/2017-04-29/what-were-the-thames-frost-fairs-and-why-dont-we-still-have-them-today
I would love to run around in a beautiful green pelisse like Billie's in this episode, wouldn't you? Are you a Who fan? 'Fess up –I know you're out there! I could totally envision Dr Who enjoying tea with my Magnificent Marquess in his "East Indian-style" refurbished home. But that would be in 1817, so instead I'm inviting you!
Save
Save
Save