In my mess-in-progress, the hero is a gentleman by birth and by virtue of having been an army officer, but he takes up ballooning as a business, not just a hobby. I haven't found any historical examples of anyone like him, but I have come up with what I hope is a decent explanation for why he takes up flying.
A lot of stories might not see the light of day if the authors worried too much about plausibility. Chicks-in-pants is one of those plot themes. Although there are some historical examples of women who pulled off pretending to be men… And it worked for Shakespeare, so why not?
One of my other more unlikely plots was in The Redwyck Charm, which I recently re-released in paperback. The heroine tries to escape an arranged marriage by masquerading as an opera-dancer. Silly, yes, but it was fun to write and is a favorite with my readers who say they like lighter stories. The idea came to me when I read this passage in The Mirror of Graces (an etiquette book of sorts published in 1811):
Extraordinary as it may seem, at a period when dancing is so entirely neglected by men in general, women appear to be taking the most pains to acquire the art. Our female youth are now not satisfied with what used to be considered a good dancing-master; that is, one who made teaching his sole profession; but now our girls must be taught by the leading dancers at the Opera-house.
I found it interesting that young ladies might have learned some elements of ballet. The author goes on to say that no gentlewoman could take the time and effort to develop true proficiency. Though I tend to agree, I don't pretend that my heroine is more than a half-way decent amateur, getting by more because she's a big hit with the young bucks who go to the opera to ogle the dancers.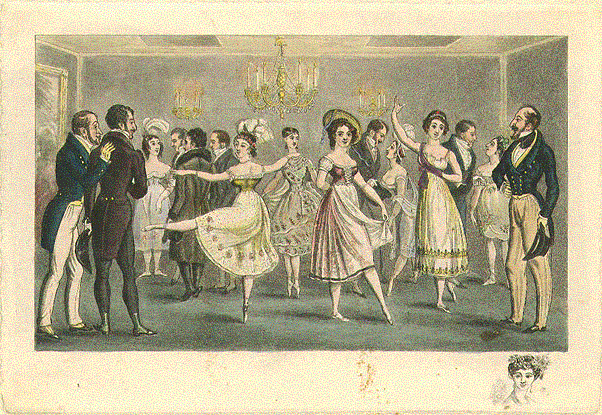 How do you feel about far-fetched plots? Any favorite examples that worked (or didn't)?
I'll give away one copy of The Redwyck Charm to a random commenter.  Comment by next Thursday (2/14) and I will announce the winner on Friday.
Elena
www.elenagreene.com
www.facebook.com/ElenaGreene