1800—Allan Pendale, lawyer and the youngest son of the Earl of Frensham, is bound by ship for the West Indies, to impart the news to his estranged father that his mother has died. But he also has another mission—to find out the truth of his origins.
Miss Clarissa Onslowe is also on board, traveling to take up the role of governess to the daughter of the wealthy planter Mr. Lemarchand. There is nothing to keep her in England. An indiscretion five years before led to her reputation being ruined; her abolitionist family has disowned her and no gentleman would marry her now. But now she seeks redemption with her family by revealing the truth about the miserable lives of the slaves who work on the sugar plantations.
Clarissa's previous encounter with love has left her aroused and restless, and Allan is a man for whom lust is a daily pastime; thrown together belowdecks during the long sea voyage, they embark on a sensual odyssey where no desire is left untested. But if they thought their exploration and ecstasy could not be bettered, then there are more pleasures to be taken and boundaries to be broken at their island destination—where "March" Lemarchand, sugar king and master of seduction, awaits them both…
"A marvel of sex, smarts, and wit" — Pam Rosenthal/Molly Weatherfield
"Unabashedly wicked…titillating, witty, and very, very sexy" — Colette Gale
Buy at: Amazon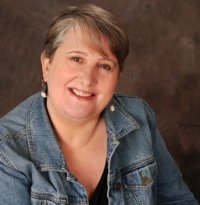 Janet Mullany grew up in England and has worked as an archaeologist, performing arts administrator, classical music radio announcer, bookseller, and editor, and unexpectedly became a writer over a decade ago. She speaks on such diverse topics as Georgian servants, the English abolitionist movement, the black and Jewish populations of Regency London, how to incorporate humor into romance, and how to write hot historicals. She lives outside Washington, DC where she reads voraciously and teaches a cat manners.
Learn more and connect with Janet at:
Janet's website ~ Facebook ~ Twitter
For a complete listing of titles offered in this sale, please visit the Risky Regencies 99 Cent Sale Page.