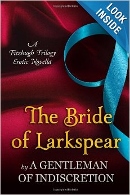 Fitzhugh Trilogy, Book 3.5 (an erotic novella)
To save her family from the repercussions of scandal, a young woman reluctantly marries a man she despises. Now she faces her wedding night…
What she doesn't know is that her gorgeous bridegroom has long been desperately in love with her. But he is too proud to expose his yearning to her scorn. Now that he has her in his bed and in his power, he is going to mount a determined and dangerous assault…
It will be a battle fought with whispers, kisses, and the most intimate of touches, a war between a woman defending the fortress of her heart and a man determined to break down all barriers.
Win or lose, each clash will sear with pleasure…
"This is a very intense emotional exploration of the extreme ends of the spectrum of human experience: love and hate, doubt and certainty, pain and pleasure… And, once again, Sherry Thomas leaves me breathless…" — Love Saves the World
"The Bride of Larkspear was both a very hot and a very sweet story." — (5 stars) Amazon Reader Review
Buy at: Amazon ~ Barnes & Noble ~ Apple ~ Kobo ~ All Romance Ebooks ~ Google Play
Sherry Thomas is one of the most acclaimed romance authors working today. Her books regularly receive starred reviews from trade publications and are frequently found on best-of-the-year lists. She is also a two-time winner of Romance Writers of America's prestigious RITA® Award.
English is Sherry's second language—she has come a long way from the days when she made her laborious way through Rosemary Roger's Sweet Savage Love with an English-Chinese dictionary. She enjoys digging down to the emotional core of stories. And when she is not writing, she thinks about the zen and zaniness of her profession, plays computer games with her sons, and reads as many fabulous books as she can find.
Learn more and connect with Sherry at:
Sherry's website ~ Facebook ~ Goodreads ~ Twitter ~ Library Thing
For a list of all the titles in the sale, visit the 99 Cent Ebook Sale page.