"One knows so well the popular idea of health. The English country gentleman galloping after a fox — the unspeakable in full pursuit of the uneatable."
Oscar Wilde (1854-1900), A Woman of No Importance, act 1.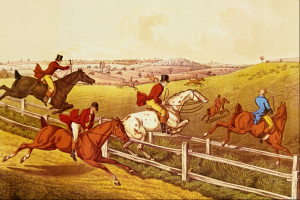 I first wrote about fox hunting in 2014, but the air has finally turned brisk here in Virginia and autumn leaves are finally turning. November would have been the start of the fox hunting season in Regency England. Pursuing the "uneatable" was a popular sport among Regency gentlemen and the fox hunting season would have lasted until right before spring planting. Fox hunting has a long history in Britain, dating back to the 16th century. It became especially popular after the decrease in the deer population made hunting deer more difficult.
Hunting foxes was once considered a form of vermin control. Foxes were notorious for attacking small livestock, but by Regency times, the main purpose of the hunt was the sheer sport of it. Hounds were bred specifically for fox hunting. Gentlemen kept up to 12 hunters, horses bred for the hunt, so they could hunt six days in a row, using two horses per hunt. During the Napoleonic Wars, the Duke of Wellington kept eight horses and hunted frequently while on the Peninsula.
Hunting was the sport of wealthy gentlemen partly because those gentlemen had the wide expanse of land that the hunting required. Others could only hope to be invited to the hunt. Unauthorized hunting anywhere was considered poaching and could incur severe penalties.

Regency times were times of house parties during which gentlemen rode to the hounds and only a very few ladies did. Ladies were encouraged to ride out with the hunters or to watch the hunt from carriages.
Fox hunting was outlawed in Great Britain in 2005 but still exists in other countries including Australia and the USA.
I love the idea of galloping over the countryside on horseback, but to chase a fox and have it torn to bits, not at all. We have a fox that lives in the woods behind us of whom I am rather fond. I understand the appeal hunting game animals, although I couldn't do it. Could you? Do you hunt? Have you ever been fox hunting?