(My friend Andrea Pickens, aka Cara Elliott, is joining us today to talk about some special new releases!  She and I both wrote for the Signet Regency line, and now we are seeing some of those older titles come back into the world with brand new covers….comment for a chance to win a copy!)
Hi Everyone,
It's always wonderful to be back at the Riskies, but today I've switched my Cara Elliott chapeau for my more traditional Andrea Pickens bonnet . . . but hey, we all know Regency bonnets could get quite creative and daring while still staying within the rules. And that's the great fun of the traditional Regency genre. Yes, there are greater constraints that for a Regency historical. But for those of us who started out writing them—like many of my Risky pals here!—the absence of the "S" word and writing all the rumple-pumple let us add color and texture to our stories and characters by exploring things like offbeat setting and unusual occupations for our heroes and heroines.
Take for example, Diamond In The Rough (The above preamble is, as you may have guessed, a rather longwinded introduction to the fact that I have just released two trad Regencies as self-pubbed e-books, which are the first two in a trilogy) It first appeared in the Signet line, and features a story revolving around golf in Scotland. The heroine is a caddie in disguise and she's a better player than most of the men. When a friend asks her to help an English lord learn the sport in order to win an match and save his ancestral home, the games begin, both on and off the links . . . I loved researching the esoteric elements about the clubs and courses of the times, and weaving them into the decidedly offbeat romance that ensues. It was a classic sporting wager trope, but with a twist. (The Riskies could all offer lots of examples of their books that featured really original plots and people—but for reasons of space I shall let them bang their own drum!)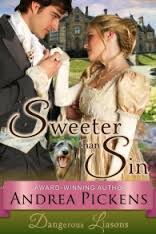 The second book is a brand new original book, entitled Sweeter Than Sin. The hero likes to dabble in . . . chocolate. Now in doing research for a historical mystery series I wrote, I learned a lot about the history of chocolate, and how edible chocolate was known in the Regency era. (Marie Antoinette's physician mixed her medicine in solid chocolate wafers flavored with fruits or nuts to disguise its bitter taste. He later opened a chocolate shop on the Left Bank of Paris in 1802.) So it was fun to create a plot where that element could "sweeten" the romance. Rafael is a half Spanish-half English war hero who has come to England to recover from a serious wound. To help draw himself out of his black moods, he decides to work on translating his Spanish grandmother's diaries on the lore of chocolate and her recipes. His neighbor is the disgraced daughter of a duke, who is suffering from guilt. A chance meeting brings them together, and they slowly begin to discover the healing power of chocolate—and of course love. (There is also a dog they rescue from the stews named Hero who helps save the day!)
Now, don't get me wrong, I love drawing room stories, "comedy of manners" plots and sexy romps too, but trads with offbeat elements have always had great appeal for me. How about you? Do you like regencies that stray off the beaten path. Have any favorites to name? I'll be giving away a copy of one of my e-books (your choice!) to a winner chosen at random from those who leave a comment here.