I think some of the most beautiful portraits of our period and a bit earlier are found in miniatures. One of the best miniaturists was Richard Cosway.
Cosway (1742-1821) was the son of a schoolmaster. At age 12, he went to London to study painting, winning prizes from the Society of Artists in 1754 and 1760. By the age of 20 he was in demand. In 1785 he was appointed Painter to the Prince of Wales and painted the Prince's first wife Maria Fitzherbert.
In 1781, Cosway married Maria Hatfield, 20 years younger than he. Maria was a multitalented artist, composer, and educator, who had brief romance and life-long friendship with Thomas Jefferson. Cosway supported his wife's artistic pursuits, but theirs was not a happy marriage.
Miniatures were keepsakes that could easily be kept in a pocket or reticule, much like we keep treasured photos in a wallet. This Cosway miniature of a lady shows how some were set.

Here are some other examples:
Wellington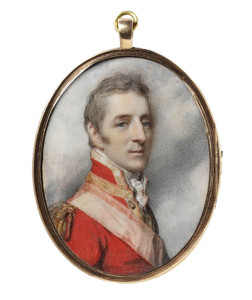 George IV

And this beautiful one of Mrs. Floyd

I've always wanted to own a Regency or Georgian era miniature. Do you own one? Do you have a favorite?