Diane here! It is my pleasure to introduce our guest bloggers today. As you may know, Harlequin Historicals are edited by the Mills and Boon offices in the UK. One of the pleasures of writing for them is getting to know the UK authors. These are women who live on moors, shop in London, visit stately homes. Sigh! I envy them! Today please welcome three of them who have an exciting series to tell you about (and a mystery goody bag to give away to one lucky commenter). Here they are!
Put any three romance writers together with a glass or two of wine and, if they are friends and have interests in common, sooner or later one of them will say, "I've had a great idea… Shall we collaborate on it?" On this occasion we were the three writers in question – Sarah Mallory, Annie Burrows and Louise Allen.
It was Sarah who had the idea – she'd just visited Waterloo and had been very moved by the stories that were bound up with that momentous battle. Knowing the bicentenary would be a very important occasion she wanted to do something personal to mark it and suggested three linked books to Annie and Louise.
We've been friends for years, and we all write Regency historicals, so Waterloo is a familiar background for all of us. Fortunately Sarah had her brainwave with plenty of time to plan, so we waylaid the senior Harlequin Mills & Boon Historicals editor at a conference and pitched the idea. When she accepted the concept of the Brides of Waterloo trilogy the hard work began!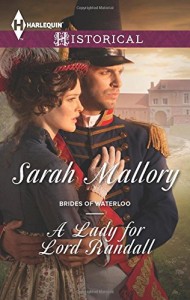 We had all worked on collaborations and linked books before, and we knew it was essential to be able to discuss ideas and to negotiate over what did and didn't work for us and our characters. Fortunately we soon agreed that our three stories would overlap in action and in time, but would also stand alone as complete stories in their own right.
It only took a few emails for us to agree what we wanted to write and after that we began to plan our books, each using a character from the artillery unit we had created, affectionately known as Randall's Rogues (think of a Regency Dirty Dozen!) Sarah's story begins before the battle, Annie's starts as it is being fought and Louise's begins the morning after, on the battlefield. Our characters are linked by blood – Sarah's hero and Annie's heroine are brother and sister, Louise's hero is their half-brother.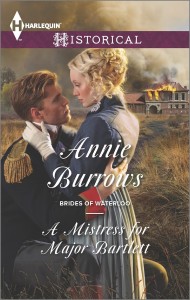 Most of our communication was by email, although we did meet up occasionally at Romantic Novelists' Association events. Emails flew thick and fast and we started to use spreadsheets to plot the timelines and to keep a note of our characters. Modern technology was hugely important in our collaboration, although on one memorable occasion Annie and Sarah did get together in the café of a large bookshop to work out one of the battle scenes with the use of the cruet set, sugar basin and napkins. That attracted a few bemused looks from other customers!
All three of us have been researching the Regency period for years, but this trilogy meant we needed to find out more about the military aspects of the battle. The personal stories of our three heroes were paramount, of course, but we had to set them in the right background. We read books on Waterloo by respected military historians, visited exhibitions and talked to re-enactors, as well as contacting a Waterloo tour guide who has made the battle his life study.
Sarah's hero in A Lady For Lord Randall is Justin Latymor, Lord Randall, the colonel of the artillery unit. He is a career soldier with no time for romance, until he meets Mary Endacott, a radical young teacher who challenges his authority. She is opposed to everything Lord Randall represents and not afraid to say so, but once she falls in love with Randall she proves herself to be every bit as courageous as her man.
Annie's hero is the unit's resident rake, Major Tom Bartlett, in A Mistress For Major Bartlett. Left for dead on the battlefield he finds himself being nursed by darling of the ton, Lady Sarah Latymor – his commanding officer's precious sister. He knows the right thing is to send her away, but Sarah is going to defy everyone in order to stay with him, even if she ruins herself in the process.
In A Rose For Major Flint, Major Adam Flint is Louise's hero. He's Randall's illegitimate half-brother, he's fought himself out of the gutter and become an officer – but he's tough, rough and definitely not respectable. When he rescues the traumatised young woman he calls "Rose" on the battlefield he believes her to be a camp follower. But Rose is not what she seems and Flint's hard-won honour is soon put to the test.
   It was a challenge fitting the three stories into the framework of the historical facts, but that was also a strength, because it gave us so many wonderful situations to exploit – the Duchess of Richmond's legendary ball, for one. It also led Louise into producing a non-fiction book about the first Waterloo tourists in their own words – they began appearing on the battlefield the morning afterwards and haven't stopped visiting since! (The Road to Waterloo: The First Waterloo Tourists 1815-1816).
To reflect the timescale of the books we have been given three gorgeous covers. All show the little chateau of Hougoumont in the background. It was the key to the western end of the British front line and the covers show it intact before the battle, burning during it and in ruins afterwards.
We'd love to hear your comments about our series and to answer any questions you might have. We would also like to ask you a question – Just what is it about men in uniform that is so attractive? And which uniforms do you go for – the Roman legionary? The medieval knight? The British redcoat or the American GI, perhaps? It has been great having the opportunity to visit Risky Regencies and to celebrate we're offering a mystery goody bag to the writer of one answer, chosen at random.
Sarah Mallory:
http://www.sarahmallory.com
Annie Burrows:
http://www.annie-burrows.co.uk
Louise Allen:
www.louiseallenregency@tiscali.co.uk
http://janeaustenslondon.com
Buy links
A Lady For Lord Randall:
http://www.amazon.co.uk/dp/0263247775/ & http://www.amazon.com/dp/0263247775/
A Mistress For Major Bartlett:
http://www.amazon.co.uk/dp/026324783X/ &
http://www.amazon.com/dp/026324783X/
A Rose for Major Flint:
http://www.amazon.co.uk/dp/0263247899/ &
http://www.amazon.com/dp/0263247899/ &
The Road to Waterloo:
http://www.amazon.co.uk/dp/B00VMQWN74/
http://www.amazon.com/dp/B00VMQWN74/