How much do you know about LGBT history during the Regency period? Today we offer you a guest post by writer Graham Stokes (who happens to be Risky Gail Eastwood's son).
 As most of you probably know, June is LGBT Pride Month. The month is generally filled with gregarious celebrations commemorating the Stonewall Riots which occurred on June 28, 1969 and launched the modern LGBT rights movement as it is known today. But the history of the LGBT community goes back much farther than that. Here's a glimpse of it specifically during the Regency period.
To start, let's talk terms. Of the words that make up the acronym LGBT, only the word "lesbian" was used in the Regency with the same meaning as it has today. Even though we've used "queer" in our post title, it actually just meant weird or deviant back then, without any specifically sexual connotation. Homosexuals were known as "mollies". Some sources say this was an evolution of 18th century slang when a "Molly" meant an effeminate man.
In the British Empire, not only was homosexual behavior between men still illegal in the Regency era, it still carried the possibility of a death sentence. Homosexual and transgender people were forced into hiding. Taverns, coffee houses, and other businesses that could provide cover for them were called "molly houses".
Molly houses were primarily establishments where men could meet other men –or male prostitutes, a practice that was increasingly common by the Regency period –for sexual encounters. However, these houses were also the hub of what little community there was for LGBT people. 
Cross-dressing was commonplace inside molly houses. Some outdoor locations, such as public toilets and certain public parks and thoroughfares, became known as "molly markets" but served much the same purpose as molly houses.
For convenience (of the authorities), pillories were often built near these places, because of how frequently offenders were placed in them. Ironically, this meant that pillories often became an identifier of a place where a molly market might be, rather than a deterrent from seeking one.
Early in 1810, James Cook and someone named Yardley (full name unknown) opened a molly house on Vere Street called the White Swan. Both men would later claim they had wives and kids, were completely straight, and were only operating the molly house for the money. On July 8, less than six months after the White Swan opened, Bow Street Runners raided the place.
Th
is Vere Street coterie, as it was called, was reported in every newspaper. Twenty-seven men were arrested, though only eight were prosecuted and convicted for the crime of buggery. Six of them, convicted only of "attempted sodomy" (a subset of the umbrella term "buggery"), were pilloried in the Haymarket on September 27. A large and unruly crowd came out to watch the punishment and hurl things –reportedly including dead cats –at the "mollies". The city was forced to deploy 200 armed constables to prevent anything worse from happening.
The following spring, on March 7, 1811, 46-year old John Hepburn and 16-year old drummer boy Thomas White –both convicted of engaging in the actual act of sodomy –were hung despite neither of them being present at the White Swan at the actual time of the raid. The lawyer Robert Holloway would write a book about the incident, published in 1813, entitled The Phoenix of Sodom.
This would not be the end of the scandal stirred up by the Vere Street coterie. The Weekly Dispatch reported that the Reverend John Church had been performing false marriages between the male clients of the White Swan. The rumors are, at this point, unprovable but the modern LGBT community of the UK claims John Church performed the first same-sex marriages in England. For his part, Reverend Church denied the accusations, claiming they had been started by his rivals in the clergy. He took legal action against the Weekly Dispatch to ensure such stories were not reported again.
However, in 1816, Church became involved in another scandal when he was arrested on charges and this time convicted of attempted sodomy. The trial took more than a year. Upon the news of the verdict, a large crowd burned an effigy of him at his church, the Obelisk Tabernacle. Rev. Church was sentenced to two years in prison. He resumed his career as a minister after his release, and was not involved in any more scandals afterwards.
The validity of the accusations against Church is certainly questionable, as false accusations of sodomy were not unheard of. In his memoirs, radical speaker Henry Hunt recalled the supporters of his opponents frequently heckling him with remarks that suggested he was engaging in buggery. In 1811, the Lord Bishop of Clogher, Percy Jocelyn, was accused of "committing unnatural acts with another man" by a man named James Byrne. The Bishop took legal action against the accusations that he stated were false.
Given a lack of evidence to support the accusations, and considering the Bishop's membership in the Society for the Suppression of Vice –an organization responsible for many raids on molly houses –the court sentenced Byrne to three floggings and two years in prison. Byrne nearly died from the first two floggings, so he recanted his accusation and the third flogging was canceled.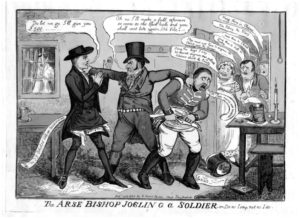 Byrne's accusations, however, had not been forgotten by 1822, when Bishop Percy Jocelyn was caught in the act of buggering a soldier named John Moverly. The ensuing scandal, taking into account the bishop's hypocrisy and high social standing, was so vicious that the moral superiority of every clergyman in England was called into question. The scandal reverberated throughout society. Lord Castlereagh's suicide less than a month afterwards is said now to have been because he was being blackmailed for "preferring men." As for the Bishop, he was fortunate to have the means to escape from England to France. 
France had decriminalized sodomy in 1791, and when Napoleon created a new penal code in 1810 he carried over the entire lack of laws banning sodomy. As a result, Paris became something of a "hot spot" for homosexual and transgender individuals. No laws existed to protect them, and the behavior was certainly not accepted, but Bishop Percy Jocelyn was still able to take up residence in Paris under his own name and was welcomed into French society. Indeed, the entire French Empire was something of a different, freer experience for homosexual people than it was anywhere else in the world.
Details about life as a homosexual woman during this time period are scarce. Romantic relationships between women were — and often still are — misconstrued as passionate friendships. In cases where such friendships were discovered to have a sexual nature to them, legal action was typically not pursued against the offenders. Even if it was, the laws were much more lenient in regards to lesbian behavior. Of course, women were much less able to secure any sort of financial stability for themselves without a husband, so most lesbians chose to marry and carry out their affairs in the most secretive of ways. Only a handful (that we know of) were able to get by without a husband.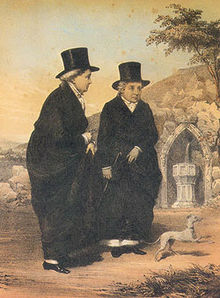 The Ladies of Llangollen were two such women — Eleanor Butler and Sarah Ponsonby, who had a romantic relationship for over 50 years. Defying their families, the two established an estate in Wales, called Plas Newydd, rather than enter into marriages with men they did not love. Though they incurred significant debt in order to have a staff, they survived on the generosity of friends until a fascinated Queen Charlotte convinced King George III to grant them a pension.
Plas Newydd became something of a haven for writers during the Regency era, especially since the couple living there could afford to keep it. Another, even more notable, lesbian of the time was Anne Lister, who was a guest at Plas Newydd on occasion and who kept an explicit diary (in code). She had secured a position amongst the landed gentry, having inherited a good amount of wealth and a manor in Yorkshire called Shibden Hall. Because of her position, she was able to survive securely without ever marrying a man.
Details on transgender individuals are even harder to find. This isn't just because being transgender was such an unexplored concept at the time, but because there was a lot of cross-dressing that went on for other reasons even though it was highly illegal. There were frequently men who dressed in women's clothing at molly houses, and these likely were male-to-female transgender folks. Beyond those, however, there were practical reasons. Were women living as men transgender, or simply trying to escape restrictive gender roles? It's hardly a secret by now that some women entered military service pretending to be men. In 1812, two men dressed as women calling themselves "General Ludd's wives" led an attack on a factory owner's home — but this was most likely to obscure their identities rather than because they actually identified as women.
GAIL says: Thank you, Graham!! Fascinating info. We have come a long way from the days of the Regency, at least in some parts of the world, in how we see and treat our LGBT society members. Still a long way to go!
Blog readers, have you read any Regencies with LGBT characters? What do you think about including such historically accurate elements of the time period in stories about romance?
Save
Save