Since I'm going to be messing around on planes and stuff today (off to the JASNA AGM in Montreal, which I'll tell you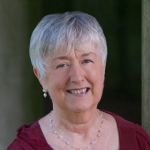 all about next time) I invited debut author Caroline Warfield to visit. You've gotta love a writer whose tagline is "love is worth the risk." Caroline will be giving away a kindle copy of her book Dangerous Risks (many choices of entering below) and I'll announce a winner on Monday.
Find out more about Caroline on Twitter @carowarfield, Facebook, and Pinterest.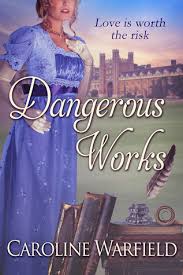 Here's a snippet of what the book is about:
Lady Georgiana Hayden has struggled for years to do scholarly work in the face of constant opposition and even outright derision from the scholarly community at Cambridge. Her family ignores her as long as she doesn't draw attention to herself.

A little Greek is one thing; the art of love is another…
What brought you to writing romance?
Like most writers, I read. I read omnivorously, but I usually have a non-fiction (almost always history or biography) and a romance in process. What you read finds its way to what you write, and historical romance became inevitable.
What was the idea behind Dangerous Works?
I began with a "what if." Women's history and women's literature have been much studied in recent years. I wondered what would have happened if a woman had tried that line of study in 1815. I pushed the year forward to give the hero, Andrew, some time after Waterloo. He is weary, wounded, and looking for meaningful scholarly work.
Your storyline is obviously influenced by Persuasion. What are your other inspirations?
It tickles me when people make that comparison. I had no thought of that when I was writing, but Persuasion has always been my favorite of the Austen books. My big influences are writers that explore the emotional growth of mature, complex, but damaged or imperfect characters: Mary Balogh, Carla Kelly, Mary Blayney.  Can I brag a little? When Ms. Balogh read the book she said. "Bravo! …a day of happily absorbed entertainment."  That was super affirming.
Tell us about something interesting you turned up in your research.

Of course I spent some time looking for women poets in ancient Greece. In the midst of it I was very intrigued to learn about Locri, a Greek colony in what later became Italy. It was the center of a women's cult around a temple to Aphrodite and also Persephone. In Dangerous Works, The heroine, Georgiana, struggles to translate epigrams by Nossis of Locri for two reasons. One is her lack of an understanding of some of the names and images. The other is her inexperience in love. Faced with a choice between 'love' and 'eros' to translate a particular word, she chooses 'desire' instead.
Nothing is sweeter than desire
All other pleasure is second to it.
Even honey I spit from my mouth.
Images in the rest of the poem about Aphrodite and those whom she does not or has not loved are full of possible double meanings and improper implications she has to puzzle out.
Tell us about the Dangerous Series. How are they linked, other than by title?
The heroes of the books grew up together, went to war together, and are all now trying to make a life for themselves. Dangerous Works will be followed by Dangerous Secrets, scheduled for Winter 2015. It tells the story of Andrew's good friend Jamie Heyworth, a down on his luck former major. He longs to please and worships his friends, but a huge mistake fills him with shame so great he has run off to Rome to hide from them. Dangerous Weakness, still in process, covers Georgiana's brother and Andrew's good friend, the arrogant, interfering Marquess of Glenaire who thinks he can control everything. He is Mr. Perfect and I'm having fun tripping him up and leading him into folly. He will chase the heroine across the Mediterranean to Constantinople. Those two stories will be followed by a Christmas novella about their cheerful friend Will, an earl who would rather be a farmer.
What's the last great book you read?
So many books; so little time! The last great book I read was probably The Island in the Center of the World, a history of New York. I'm hesitant to list the fun books I've read recently (aka historical romance) for fear of leaving someone off.
What do you do when you're not writing?
My husband and I recently moved to the Philadelphia area to be near our grandson. We're able to indulge the things we love most: time with the grandbuddy, history, and genealogy. We have along list of houses, museums and battlefields to tour that keeps us anchored, but Europe and more exotic locales are calling.
What's risky about your book?
Love is risky! In the case of Dangerous Works, the heroine Georgiana has to overcome her fear of losing her independence and learn to trust a man who hurt her in the past.  The hero, Andrew, risks his hope of a scholarly career by helping a despised amateur; he also risks his heart, trampled once before when he dared to love Georgiana. Family interference looms over them both. She is the daughter of a duke; he is a schoolmaster's son.
Wow! Scholar heroines, exotic settings (in future books, not Cambridge!)–tell us what you like about those tropes.