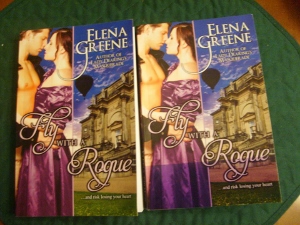 This picture is an example of the sort of week I've been having.
See the pretty page proof of Fly with a Rogue on the left? It's actually the second of three proofs I ordered for checking out updates to the paperback version. Nice cover, right? And that's just as it was in the first page proof. But there were still some issues to be addressed in the interior, so after making corrections, I ordered the third page proof. In the rush to check the interior, I didn't take a close look at the cover. After all, it was good in the previous two proofs and I hadn't changed the file, right?
My bad. Next time I will check everything, every time. For now, I'm going to wait until the cover is fixed—which should be soon—before I do a giveaway of the paperback copy.
Other Stuff That Went Wrong this week. One of the support cylinders for the trunk of my hard-working, much-loved but soon-to-be-replaced Subaru Outback broke, so now it takes two people to load or unload anything, one to hold the trunk open, one to handle the stuff. An important message to the narrator of the audiobook for Lady Dearing's Masquerade didn't go through for whatever reason—and with no error reported, so I didn't know until I sent her another note that she hadn't gotten the first. Anyway, she's now working diligently to make up for the lost time, which I appreciate!
So nothing terrible, just little annoyances and setbacks. So how was your week? Any accomplishments? Any setbacks, large or small, you'd like to share?
But first let me announce the winners of the e-book version of Fly with a Rogue. Congratulations to:
HJ
Nancy
bn100
Annette
Shelley Munro
Please email me at elena @ elenagreene.com (no spaces) and let me know the correct email to use for the gift and if you prefer a Kindle, Nook or Smashwords copy.
So let me know how your week has been going!