Meet the hero and heroine of Daring Deception by Brenda Hiatt, Book #1 in Regency Masquerades, six sparkling Regency romances in one ebook–currently 99 cents!
At the ballroom door…
Master of Ceremonies: Ah, the lady and gentleman just arriving—what a well-matched couple! Judging by the way they move, their fine figures and what I can see of their faces beneath their masks, they are a handsome pair. But… Oh, it appears I was mistaken. They have not come here together after all, for I see no sign of interaction between them. In fact, is that scorn I see gleaming in the lady's eyes as she gazes upon the gentleman before her? Hm. I do love a good mystery.
"Good evening and welcome. Sir, if I might have your name?"
Gentleman: "Seabrooke."
Master of Ceremonies: "Ah! Allow me to congratulate you, my lord, on your recent elevation to earl. A fitting reward, I should say. The heroism of Major Gavin Alexander against Napoleon's forces has been widely celebrated.
Gentleman: "Yes, well, I've discovered some rewards come rather dearly bought."
Master of Ceremonies: Hm. No doubt he means the injury he sustained in his last skirmish—though I see his limp is but slight now. Still, it was thoughtless of me to mention it, I suppose. At least his identity gives me a clue as to why the lady is regarding him with distaste. Lord Seabrooke's reputation with the fair sex is far from spotless.
(Bows the earl toward the ballroom and turns to the lady.) "Madam?"
Lady: "Miss Frederica Chesterton. However–"
Master of Ceremonies: "Miss Chesterton! Then I perceive my congratulations must be expressed to both you and Lord Seabrooke. I saw news of your betrothal in the papers Thursday last."
Clearly my first surmise was correct and they have come to the ball together after all. But why did Lord Seabrooke seem so startled just now by the sound of her name? And he continues to regard her most intently—curiously, even. Odd, that.
Lady: "If you please, sir, as I was about to say, I am attending incognito tonight. You see, my formal debut is still some days off and it is not generally known that I am already arrived in Town. Tonight's masquerade is a practice run, as it were."
Master of Ceremonies: "Of course, madam! A very clever plan, if I may say so. And perhaps, by pretending to be strangers, you and your betrothed will get to know each other better before your nuptials."
Gentleman: "No pretence will be necessary. As it happens, Miss Chesterton are only now meeting for the first time. Our betrothal was…handled by proxy."
Master of Ceremonies: So, a marriage of expediency! I do recall hearing that the Seabrooke title came encumbered by debts, but if so, the earl has kept up appearances remarkably well. So much so that most concluded that the rumors were just that. But perhaps not?
"Then I very much hope you will find this an evening of pleasant discoveries about each other. Ah, it appears the music is about to start…"
From behind a Greek-inspired column…
Brenda Hiatt here, vicariously enjoying the festivities… It's small wonder if Miss Chesterton seems a bit familiar to Lord Seabrooke, for unbeknownst to him, they have indeed met before this evening. In fact, he knows his betrothed quite well—in the guise of frumpy, bespectacled Miss Cherrystone, whom he hired as live-in nanny to his little ward, Christabel. Of course, Miss Chesterton is well aware of this, as she has intentionally infiltrated his household in hopes of proving him a scoundrel and fortune hunter, so that her brother will allow her to cry off this travesty of a betrothal. Interestingly, although Lord Seabrooke and "Cherry," as Christabel has dubbed her, often lock horns, both are coming to rather enjoy their verbal sparring matches. Though what will happen to their budding friendship when the lovely Miss Chesterton's deception is revealed, I don't like to think…
"A first rate book that no Regency reader should miss. It will warm the cockles of your heart."  (Romance Reviews)
Read Gavin and Frederica's story in Daring Deception, one of six sparkling Regencies in Regency Masquerades, an ebook set which also includes books by Lynn Kerstan, Allison Lane, Gail Eastwood, Alicia Rasley and Elena Greene. Regency Masquerades is available at Amazon, Barnes & Noble, iTunes and Kobo Books. Buy now for just 99 cents!
For updates and news on Regency Masquerades and the authors in the set, like us on Facebook.
And now for a giveaway!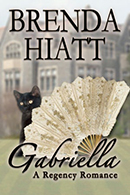 He lost a wager . . . but won a treasure.
Due to a lost wager, the Duke of Ravenham is obliged to bring a pretty little nobody from the country into fashion among the high-sticklers of London Society. Ravenham would never refuse a debt of honor, no matter how unorthodox, so he overlooks Miss Gordon's vulgar relations to do what is necessary, escorting the unsophisticated chit to balls, etc. But what he expects to be an irksome duty turns out to be something quite different as he falls under the spell of his protege's innocent charm. When he lost that wager, he definitely never counted on losing his heart as well!
First impressions can be deceiving.
Miss Gabriella Gordon only came to London at her mother's and sister's insistence, for she'd much rather assist in running her father's veterinary practice than attempt to fit into fashionable society. No sooner has she arrived in London than the exalted (and exceedingly handsome) Duke of Ravenham comes to call. The reason is less than flattering, however: due to a lost wager, the Duke is forced to bring Gabriella into fashion, a "favor" she would certainly refuse if her family would let her. But the more time she spends in the dashing Duke's company, the more conflicted she feels— particularly when she discovers they have more in common than she ever dared dream.
"With all the elan and grace of a reigning Regency beauty, talented new author Brenda Hiatt makes a wonderful debut in this most demanding of the romance subgenres." – Romantic Times
Do you most enjoy the anticipation of when a secret will out, or the actual moment of truth? (Examples?) Comment for a chance to win an e-copy of Gabriella in the format of your choice! All winners will be announced on Sunday.