Perhaps one of the most famous Duchesses of Devonshire is Georgiana Cavendish nee Spencer, wife of the 5th Duke. Georgiana was eclipsed, perhaps, only by Deborah Cavendish, the youngest of the famous Mitford sisters and whom I consider the savior of Chatsworth. Georgiana, however, was the subject of a best-selling biography by Amanda Foreman and was played by Keira Knightley in the movie based on the book, The Duchess.
When Kristine Hughes Patrone of Number One London Tours, and I spent three days at Chatsworth last May, Georgiana was featured prominently in one room, including the wonderful Gainsborough portrait (center) that had been lost for a while and only returned to Chatsworth in 1994.


To the right is an unfinished portrait of Georgiana by Joshua Reynolds. To the left is Elizabeth Foster, Georgiana's friend and the Duke's mistress. Elizabeth married the Duke after Georgiana's death.
There was also this spectacular portrait by Maria Cosway of Georgiana as Cynthia from the Fairie Queen.


As we walked through the house I noticed another portrait amidst several on the stairway. I'd never seen this portrait before, even though I'd once searched online for as many portraits of Georgiana as I could find. I asked the docent and, sure enough, the portrait was of Georgiana, although he did not know the artist.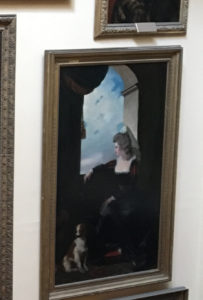 Georgiana was not only present in her portraits, but also in her gem collection. For a time, because of her affair with Earl Grey and her pregnancy by him, the Duke banished Georgiana to the Continent. During her banishment, she developed an interest in gems and became quite a collector. Here's an example of one of her finds.


Georgiana, a celebrated beauty since her youth, lost her looks at age 39 when an illness of her eye left her scarred. Her health continued to decline and she died at age 48. She had been active in politics and other social causes; she published two novels, a memoir, and a poem. She also was an addicted gambler and hiding and confessing her losses which were over three million pounds in today's money.
I've been intrigued by Georgiana since reading her biography–I even named my GPS after her!!
As much as I love Keira Knightley, to me, she was NOT Georgiana. Georgiana was voluptuous and warm and Keira is all angles and energy. What do you think? Who would have made a better Georgiana? Or did you like Keira Knightley as the Duchess? Do you have a favorite portrait of Georgiana? To me, it is hard to beat the Cosway portrait.