So much of the time, our Regency stories evolve in the settings of the elegant mansions, grand townhouses and large country estates of the rich aristocrats who people the stories. There's good reason for that, for certainly the elegance helps the romance! But lately I've been on a "cottage kick".
There are two reasons for this (besides just that English cottages can be so adorable) One is that my current WIP has my high-born hero stranded in a very small and lowly village (at Christmas, no less) which is all farms and small village houses except for the local manor and the vicarage, of course.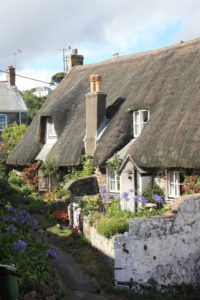 The other is rocks. Yes, I said rocks.
In view of the current fad for painted rock "fairy houses" that people are putting in their gardens, I agreed to paint some for my church's Holiday Bazaar in December. Do you know how hard it is to find good rocks with a shape that lends itself to
becoming a cottage? Even for fairies?
My tendency is to go for thatched roofs and the often-crooked charm that comes from centuries of standing in a lovely English garden. I'd show you some of mine if any were finished yet!! LOL. But I have collected a lot of cottage pictures to inspire my efforts, and I thought I'd share some.
I'm not going to turn this into a research post or talk about how very different in style and materials the cottages can be in every different area of Great Britain. There is no such thing as a "definitive" English cottage style unless you consider the "picturesque" revival movement that began towards the end of the Regency period. At that point, architects including Nash pondered what elements made up "cottage style" and purposely designed new homes to capture that charm. I just thought it would be fun to share a little overview!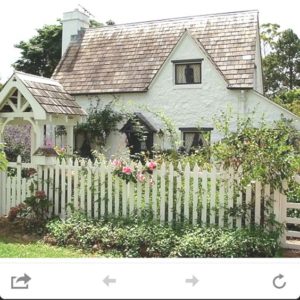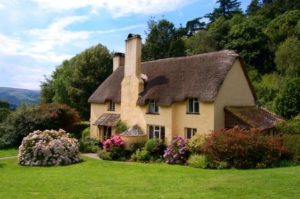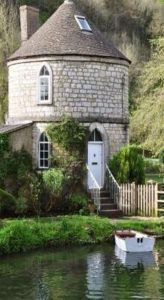 This is a short post (having some health issues, sorry!!) YOUR turn! How romanticized is my view? Which cottages do you like best? 
One of these is NOT in the U.K. –I wonder if you can spot the "fake"? Are you into any of the current painted rocks trends? (Fairy houses being only one of many going around.) Finally, a lovely rock house (painted by someone else).
If/after someone guesses the "fake", I'll post in the comments where some of these are to be found! Or perhaps you'll recognize some of them!
Save
Save
Save
Save
Save