I'm planning what must be one of the most fun "Dining for Dollars" church-fundraisers ever—a Jane Austen movie night, with period foods.
I love working out all the details for events like this. I'm working on a date and figuring out whether it will be best held at my home, where I can use my own kitchen but have a basement decorated in movie posters, or at the church hall, where I'd have to use a gas stove (I'm more used to electric) but which is also more simply decorated, so I could create a little more period ambience.
I plan to poll the guests to figure out which movies they'd like best: whether old favorites or ones they haven't seen already. We may end up doing a "Pick 2" of the regular length movies. At another movie night, friends and I watched the 2007 Northanger Abbey, with JJ Feild and Felicity Jones, followed by the 1995 Persuasion with Amanda Root and Ciaran Hinds. That worked well, since both movies are less than two hours, also because of the contrast of a very youthful couple and an older couple's second chance at love.
We might also do a mini-marathon, like the 2008 Sense and Sensibility, with Hattie Morahan and Charity Wakefield as the sisters. I doubt this crowd will be up for a 1995 Pride & Prejudice (Colin Firth, Jennifer Ehle) marathon, but I would be down for it.
I thought about wearing my Regency gown, but I've decided against it.  I don't want guests to feel they have to come in costume. I'd also rather cook in clothes I don't mind messing up, since I don't have the requisite army of servants in the kitchen.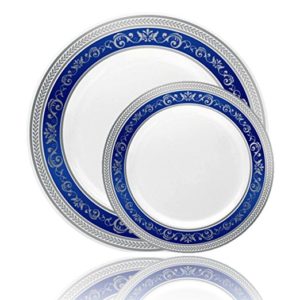 I don't have enough fine china for this size of crowd and can't afford to go all out on other props, so I may go with a somewhat kitschy-Regency vibe. These pretty plastic plates might be a good option. I've found plates like this can often be washed and reused, so I can be environmentally conscious and not blow the budget.
The most fun part may be figuring out the menu. I've spent some time with my Jane Austen Cookbook and also online at the Jane Austen Centre's recipe page and similar places.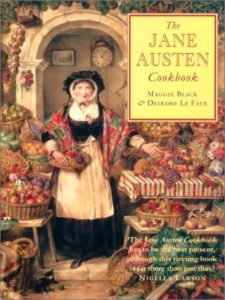 Although I've made some period desserts, this will be my first attempt at savory dishes. I've found several recipes for "white soup", which is supposed to be a standard for balls. I'm excited to have found this recipe for lobster patties from Anna Campbell, in an interview by Catherine Hein.
As for desserts, I'm thinking perhaps a proper trifle, made with syllabub and Naples biscuits (recipes from The Jane Austen Cookbook). I'm also thinking about the rout drop cakes from the same book. And then there's this adorable hedgehog-shaped cake, adapted from a recipe by Hannah Glasse. So cute!
For drinks, I'm thinking of serving lemonade, burgundy, claret, and hock. Should I learn how to make negus, ratafia, or orgeat as well? I'm also intrigued by this recipe for Regent's Punch which includes green tea and champagne. It sounds like something to try.
What do you think? What movies, food and drink would you have at your dream Jane Austen-themed party? Have you have hosted one, and if so, do you have any suggestions for mine?
Elena