Maybe it is because I've lost too many Words With Friends games lately, or maybe it is because I watched part of the Sonoma Grand Prix today, but I'm feeling competitive, so I've devised a Risky competition. A dumb one.
Game on! What Risky Book Commands The Highest Price On Ebay?
I even devised rules for the game.
1. Book must be a paperback
2. It must be Historical (leaving out some Jewel and Mullany books)
3. No novellas or double books
4. No special releases (leaving out a bunch of McCabe and Gaston books)
5. Written under our "Risky" names (No Diane Perkins books – Amanda sneaks in with her Laurel McKee because it is on the Risky site)
6. Book must mail from the US, because the UK and AU books (McCabe, Mullany, Gaston) are more costly by virtue of being far away.
7. Book must not sell directly from Barnes and Noble on ebay as Janet's and Carolyn's books do. That's just wrong.
Here are the results in no special order except the winner comes last.
Susanna Fraser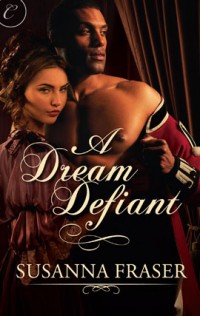 Poor Susanna did not make it to the gate, but, in her case, this is a good thing. Because her books are ebook only, if they appeared on ebay they'd likely be pirated versions, so we are glad she is not running this race. We will, however, put up the cover of her latest book, A Dream Defiant, out now!!
Gail Eastwood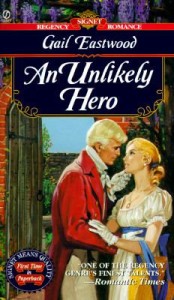 Gail has a very respectable offering in An Unlikely Hero (1996) which has a Buy It Now price of $7.99
Myretta Robens
Myretta lags a bit behind Gail. Her Just Say Yes (2005), the book that finalled for the 2006 RITA Award for Best Regency Romance, is going for $5.98.
Laurel McKee
Laurel is pretty far ahead with Duchess of Sin (2011) at $9.75. Can anybody beat her?
Megan Frampton
Megan's 2005 Regency, A Singular Lady, slips back in the pack with a $5.98 price tag, but if you don't have this delightful book, you might want to snap it up. This is the only copy for sale on ebay.
Elena Greene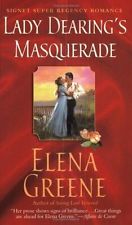 Elena's 2005 Regency (2005 was a GREAT year for Regencies), Lady Dearing's Masquerade , sprinted past Laurel with a cost of $10.62. She's the girl to beat.
Amanda McCabe
Amanda just squeaked past Megan with A Notorious Woman (2007), one of her early Harlequin Historicals, set in romantic Venice, for sale at $6.99, not enough to catch up to Gail and way behind herself/Laurel and Elena.
Diane Gaston
A surprising surge for my Valiant Soldier, Beautiful Lady (2011), passing Elena and Megan at $7.86. Why this book? Why not one of the older, harder to find ones? I am so close to Gail, by the way, I could just reach over and knock her off her…..never mind!!!
Carolyn Jewel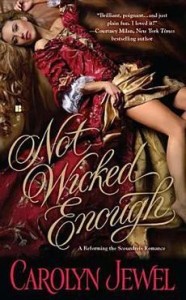 Wait a minute!! Carolyn just streaked past me with Not Wicked Enough (2012) at $9.75. She's pumping her legs hard to catch up to Elena. The race is getting exciting!
Elena'a struggling, too, though, to catch up to the leader. One of us is way ahead!
Janet Mullany
The first place winner is Janet! Her Jane and the Damned (2010) is crossing the finish line at a speed–I mean–cost of $13.88. That passes even the Laurels in this group.
Personally, I think vampires should be excluded (well, I think that now. In fact, I just thought of it this second)
Which reminds me, I never thought of a prize….I think the prize should be the satisfaction of a race well-run. What do you think? What should the prize of this competition be?????