One stumbles across them frequently when hunting for research pictures showing daily life in the Regency –those highly romanticized, sometimes charming and sometimes comical depictions of "Regency life" by later artists looking back with nostalgia and perhaps an eye to commercial success.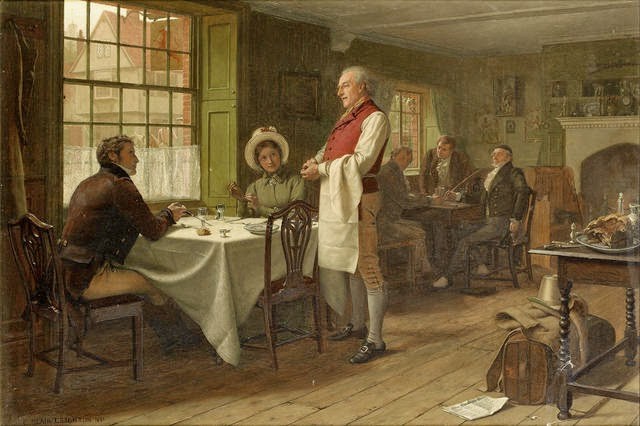 When I have used any as Facebook covers they always stir interest. Love them? Hate them? Inspired by them? Opinions vary, and of course, also may depend on the skill of the artist who painted the pictures. Some were made with great care for authentic details and some were not. "Genre painting" features small moments of domestic life, often the rustic life of country people. "Historic genre painting" adds the element of looking back in time. The elegance of the extended Regency era seemed to appeal quite a few of the artists working in the late 19th century when genre painting was at its peak of popularity.
Why did genre paintings, especially "historic genre paintings" gain such popularity in the middle and late 19th century? Sources seem to agree that the key was the growing art market among the middle classes that mushroomed during the century due to the industrial revolution, which affected every aspect of life. Artists painted what they knew would sell, and romanticized, sentimental glimpses of intimate daily life from a time period (and often, social class) not familiar to the clients were what was in demand. Later, nostalgia for what had once been familiar also drove part of the market, hence the popularity of paintings that captured vanishing idyllic pastoral scenes. Who were these genre scene artists? How long did this art trend last?
A Rogues Gallery of Genre Artists
1) Edmund Blair Leighton (1852 –1922)
The premiere and most prolific artist of Regency genre scenes, Leighton's paintings, glimpses of stories captured in a moment, are still popular and many of his Regency and medieval scenes will be recognized as familiar. He was the son of an artist, Charles Leighton, but was only two when his father died. His family knew how difficult it could be to earn a living as an artist and apprenticed him to a tea merchant firm, but he practiced drawing at night and took classes. When he came of age his family agreed that his passion for art was undeniable and no longer stood in his way. Eventually he was able to take classes at the Royal Academy. His work became popular and received critical acclaim, but the Royal Academy never made him a member or gave him any recognition. He was a member of the Royal Institute of Oil Painters. He was most active between 1877-1914. A partial gallery of his work can be found at https://www.wikiart.org/en/edmund-blair-leighton/ and more can be found easily by plugging his name into Pinterest or simply Googling him.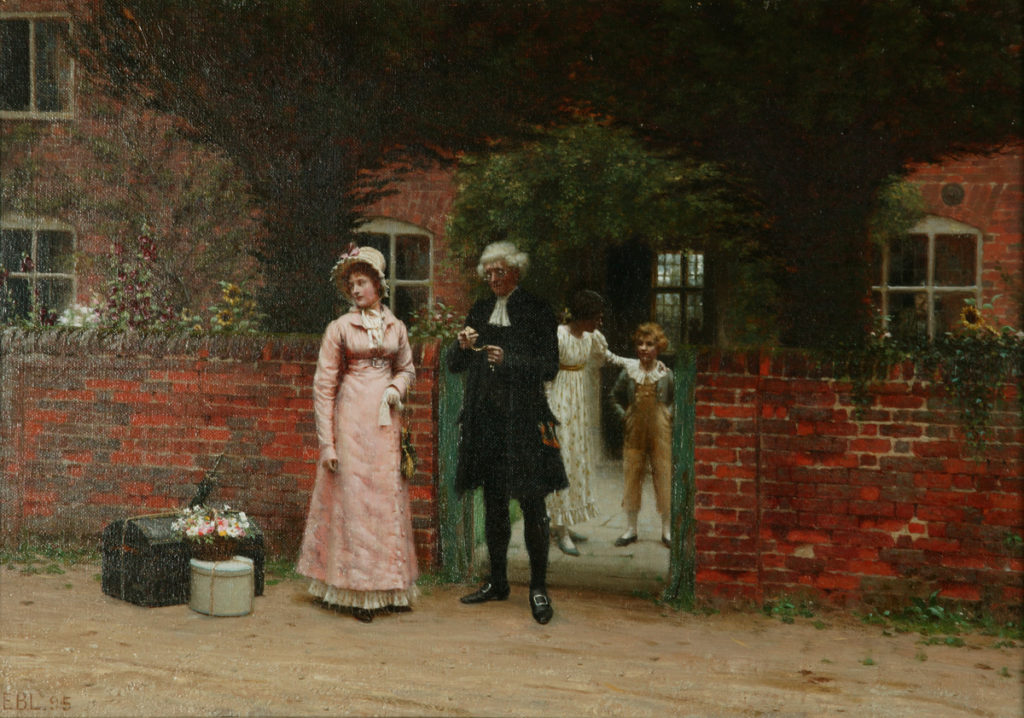 2) Vittorio Reggianini (1858 – 1938)
An Italian version of Edmund Leighton, Reggianini was part of a group of artists called the "Costume Painters," whose attention to the details and textures of the costumes on their models was paramount. Reggianini painted an idealized version of upper class European life in the early 19th century, like Leighton, capturing tantalizing moments in time, often humorous, that suggest stories untold. His invariably satin-clad ladies and especially his satin-suited gentlemen are very recognizable if not exactly authentic. The label "salon painting" has also been applied to his work for the elegant settings in which he placed his scenes. Born in Moderna, he studied at the Academy of Fine Arts there and later, after removing to Florence to pursue his art for some time, he returned to become a professor at the school. For samples of his work view: http://www.artnet.com/artists/vittorio-reggianini/
Other genre artists who worked in Florence then and did similar work under similar inspiration were Federico Andreotti, Francesco Vinea and Joseph Frederic Soulacroix. The group sometimes even shared the same models and used the same props, although many focused more on the 18th century. Other "costume painters" grouped with them include Tito Conti and Edoardo Gelli.
I am always amused by the hairstyles on their models, for they always seem to reflect the "turn-of-the-century" fashions more than the historical time period of the painted scenes –like putting a Gibson Girl up-do on a Regency heroine, kind of the same way Hollywood's hairdressers historically made movie actresses in historical roles still somehow reflect the current modes in hair.
3) George Goodwin Kilburne (1839–1924)
As prolific as Leighton and at least as popular, Kilburne had a head start by being born more than a decade earlier. Born in Norfolk and educated in Kent, at age 15 he was apprenticed as a wood engraver to the Dalziel Brothers in London. Here he honed his talent for fine detail that became a hallmark of his later paintings. In 1860 he set out to become a professionally recognized painter of oils and watercolors. Like Leighton, he tended to portray the elegant upper classes and feature beautiful young women in his genre works, which soon brought him success. He exhibited at the Royal Academy between 1863 and 1918 and also at a great many other of the recognized art societies and in galleries all around the UK. He was made a member of the Royal Institute of Oil Painters in 1883. A large selection of his work can be seen at: https://commons.wikimedia.org/wiki/Category:George_Goodwin_Kilburne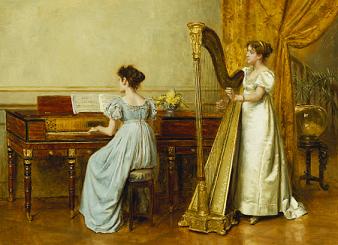 4) Heywood Hardy (1843-1933)
Hardy, who specialized in landscapes and animals, became best known for his many paintings of both historical and late Victorian contemporary hunting and riding scenes. He was the youngest of ten siblings, three of whom also became genre artists, along with two of his cousins (see below). At age 17 Heywood set out on his own after a fight with his father, James Hardy Sr., also an artist, and within five years had two landscapes accepted for exhibit at the Royal Academy. He left England that same year to study in Paris and only returned five years later. During the 1870's he continued to exhibit at the Royal Academy and studied animals and animal anatomy to increase the realism of his artwork. He worked with Professor Alfred Henry Garrod, Head of the Scientific Department at the London Zoo, and was in much demand for making paintings of famous hunt groups and sporting events. He was a member and/or founder of four Royal art societies, but like Leighton did not receive recognition from the Royal Academy despite exhibiting there to acclaim many times. For a mini-gallery of some of his work go here: https://www.1st-art-gallery.com/Heywood-Hardy/Heywood-Hardy-oil-paintings.html
I currently have this picture of his on my FB cover: it's called "Hounds First, Gentlemen". It's not that I like the idea of fox hunting, it's my admiration for this artist, not just for his prolific output or his talent at depicting horses and other animals, but for his compositional skill and his imagination in choosing moments in time to capture.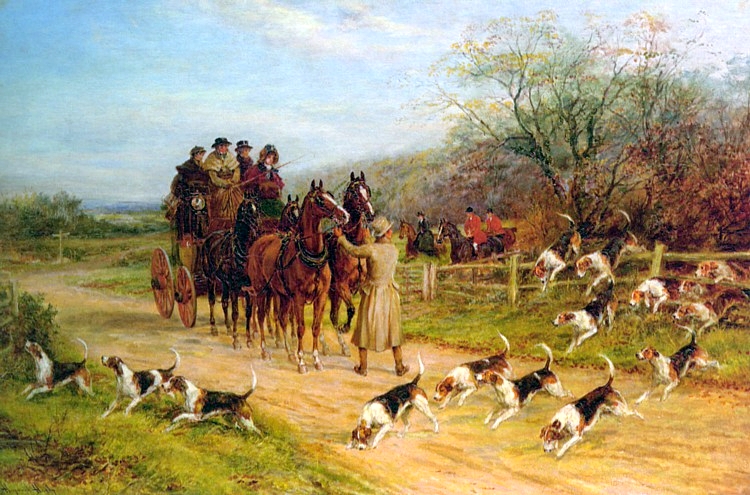 5) More Hardys:
 James Hardy Jr (1832-1889) the eldest of James Hardy's ten offspring, was never as successful as Heywood, starting out in Bath where he had a studio on the first floor of the Hardy family house at 30 Henrietta Street, but removing to Bristol in 1859 after almost landing in debtor's gaol. Where Heywood's specialty was horses, James's was dogs. His career improved when he began to paint hunting scenes set in Scotland, but he also painted genre cottage scenes depicting country life. David Hardy and a sister, Ada Hardy, were the other siblings of Heywood Hardy who became genre artists. Their cousins formed the Cranbrook Colony (see next).
6) The Cranbrook Colony
Frederick Daniel Hardy (1827-1911). The third of the eight children fathered by George Hardy (Sr.), cousin to the other Hardy artists, began his career studying music, but soon switched to art, following in his older brother George's footsteps. In rapid succession Frederick Hardy had his first pictures accepted for exhibit at the Royal Academy (1851), married (1852), and the same year that his first son was born (1853) relocated to a house in Cranbrook in Kent. Within a few years he was joined by his fellow artist, mentor and close friend Thomas Webster. They took an old house in the High Street and set up studios there.
More friends, including John Callcott Horsley, and George Bernard O'Neill, plus Frederick's eldest brother George Hardy (1822-1909) also came. As a group the "Cranbrook Colony" became known for painting "old master-ish" scenes of domestic life; cooking and washing, children playing and other depictions of rural Kent. But let us note, country life, even 30 years after the Regency, was only beginning to change. The cottage scenes may feature figures clothed in Victorian clothing but otherwise they are not very different from earlier times. Nostalgia definitely infused these works, which were very popular with the rising middle classes. Partial gallery: https://artuk.org/discover/artworks/search/actor:hardy-frederick-daniel-18271911
7) Augustus Edwin Mulready (1844–1904)
The son and grandson of well-known artists, Mulready struggled to be recognized beyond their shadow. His mother and uncle were artists, too. He was younger than most of the Cranbrook Colony so only operated on their fringe as a visitor rather than a resident. Besides, like Dickens he was interested in social issues, and his genre paintings tend to depict not rural idylls but harder realities from the streets of Victorian London –poor flower sellers and street urchins, for instance. But may be of interest to those writing Victorian settings.
8) Thomas Webster (1800-1886)
Webster's best known works depict genre scenes from just after the Regency, in the early Victorian period, like the other Cranbrook Colony artists, although he was older than the other members in that group. He began his career in music, as a chorister first in Windsor and then at the St. James Palace chapel, through his family's royal connections. But by age 21 he had given up music in favor of art, studying at the Royal Academy. He exhibited frequently there and at the British Institute from 1824-1878. He was elected as an associate of the RA in 1840, and made a full RA member in 1846. Many of his pictures, depicting school or village scenes, were made into popular prints. His last picture was exhibited in 1879. Wikimedia has a good collection of his work: https://commons.wikimedia.org/wiki/Category:Thomas_Webster_(painter)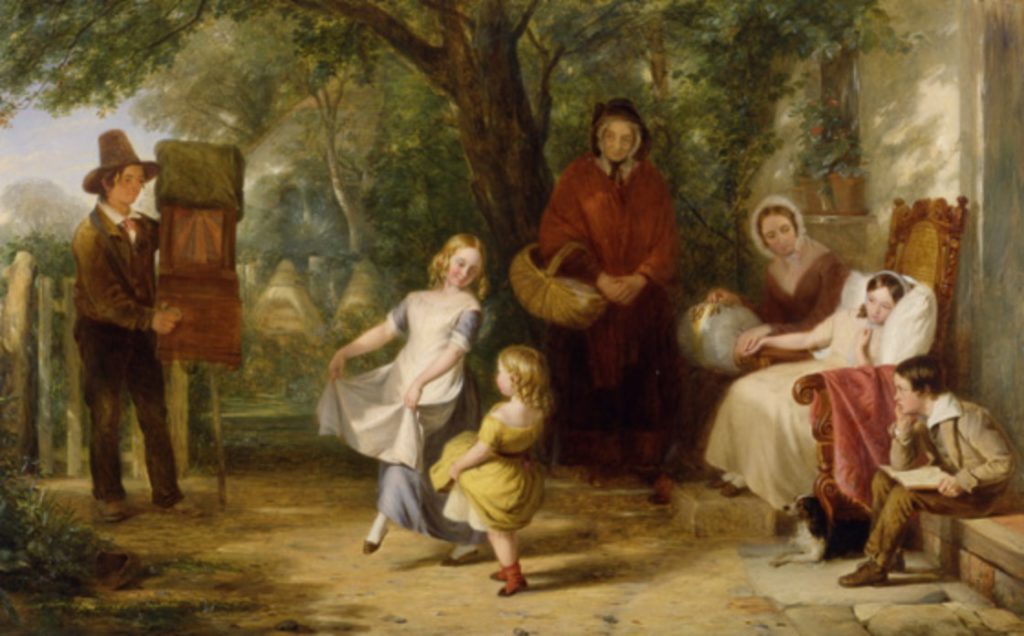 9) William Collins (1788-1847) was another genre and landscape artist, notably the father of author Wilkie Collins (originator of English detective fiction). Collins is included here for, although his genre pictures were not "historical" since he lived during the extended Regency period, he often sentimentally portrayed children and the rural poor enjoying nature, and while he was successful and popular during his lifetime, his greatest popularity came after his death in mid-century when the surge of interest in these types of pictures swelled. He studied at the Royal Academy and advanced rapidly, exhibiting his first picture in 1807, his first year there. He was made an associate of the RA in 1814 after several major sales of his works, and became a full member in 1820. He traveled to Italy, Germany and Scotland. He exhibited a total of 124 paintings at the Royal Academy between 1807-1846, and 45 pictures at the British Institute. Some of his pictures were immortalized in very popular prints.  https://www.wikiart.org/en/william-collins/all-works
10) Wilhelm Menzler Casel (1846-1926)
Menzler was a German artist who enjoyed painting highly romanticized and nostalgic scenes of beautiful young women in gardens and flowers that harkened back to earlier times, some vaguely "Regency" in style. Born in Kassel, Northern Germany, he was active in Munich where he studied with van Lerins. (I have not been able to find anything about van Lerins despite several other artists who also supposedly studied under this artist. Nor have I learned why some references include Casel as part of Menzler's name and some don't.) Menzler went on to exhibit in Vienna from 1891.
11) Henri Guillaume Schlesinger (1814-93)
Born in Frankfurt, he studied art at the academy in Vienna, and continued his studies in Paris. From 1840 to 1889 he exhibited at the Paris Salon, and then at the Salon des Artistes Français, of which he was a member. While not so readily identified as a genre painter, his subjects do tend to be domestic scenes but often set in foreign locales. Many of his works feature beautiful and exotically-garbed women. I didn't find much about him, but have included him for this intriguing and very Regency-era wedding picture: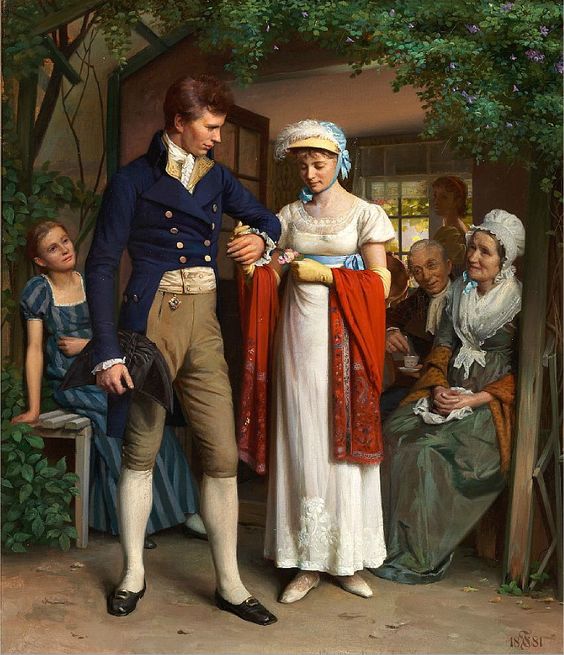 12) James Shaw Crompton (1853–1916) Although there are a number of Regency-set pictures created by him, I've found nothing about him beyond his dates. Many of his "historic genre" paintings are watercolors, and he apparently traveled to the middle east as he has several works with Egyptian and Arabian settings. His genre pictures vary from those with a large number of figures, such as "None but the Brave Deserve the Fair" (wedding picture), "Welcome Home" (war veteran returning to celebration), but others are deceptively simple, featuring only a central figure or two such as "Lady Indesposed [sic]," "The Bookshop" and "A Gentleman at Breakfast."
A clue about one painting leads me to believe some of his pictures were published as prints in the Pears Annual, a magazine printed by the Pears Soap Company that was intended to compete with the London Illustrated News. It may be that less is known about him if he was simply considered a "commercial" artist and did not exhibit his works at the various institutes or the Royal Society of Artists, for instance. Is he a victim of "art snobbery"?? One place to view some of his work is here: https://www.invaluable.com/artist/crompton-james-shaw-wo74bks7fp/sold-at-auction-prices/
13) Frederick Morgan (1847–1927) was an English painter of portraits, animals, domestic and country scenes. He became known especially for his idyllic genre scenes of childhood. He was a member of the Royal Institute of Oil Painters, and many of his paintings also became popular prints through the Pears Annuals. Two very romantic Regency-set pictures by him are "The Coming Nelson" (1901) and "Off to the Honeymoon."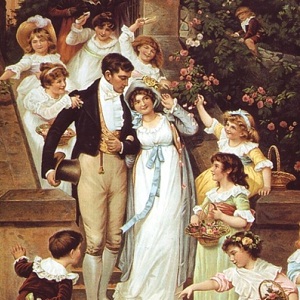 14) Frank Moss Bennett (1874 -1952)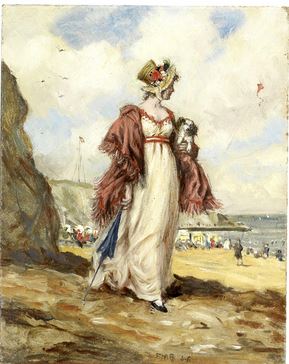 Bennett came into the genre art craze very late compared to most of the artists I've covered here. But partly due to this, his art may have been the most reproduced, appearing as popular prints as well as on calendars, cigarette cards, advertising, greeting cards and even magazine covers up until the time of his death. His historic genre paintings covered the 16th, 17th, and 18th centuries right up into the start of the Regency era. He tended toward hunting and tavern scenes, but moments of pure domestic simplicity like that below, "The Morning Paper" (painted in 1915) are also typical of his work.
15) John Sanderson Wells (1872–1955) was a British painter best known for his naturalistic depictions of equestrian scenes, portraits, and 18th-century genre scenes. Born in London, he grew up in Bradbury and attended the Slade School of Art in London. He followed this with more art study at the Academie Julian in Paris. He first exhibited at the Royal Academy in 1895 and was elected a member of the Royal Institute in 1905. A prolific painter in both watercolor and oils, he exhibited 138 paintings at the Royal Institute of Painters in Watercolors and 14 paintings at the Royal Institute of Oil Painters. 41 paintings are recorded at the Royal Society of British Artists and 38 were exhibited at the Royal Academy. His work was part of the painting event in the art competition at the 1948 Summer Olympics. See some samples here: https://www.encore-editions.com/artists/british-artists/sporting-equine-painters/john-sanderson-wells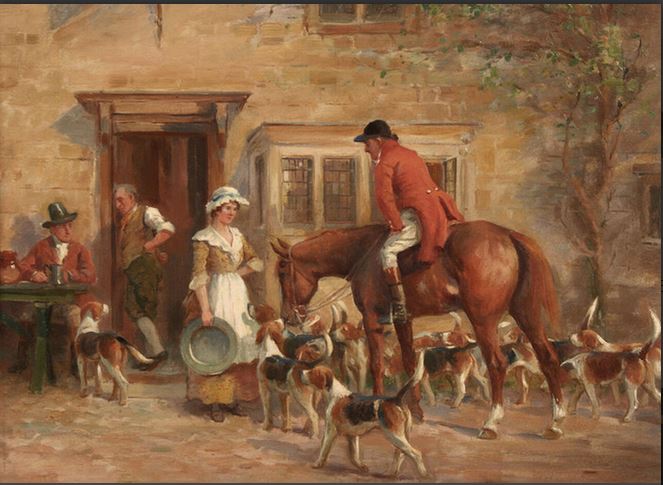 16) Edgar Bundy (1862-1922)
Born in Brighton, Bundy had no formal training in art, according to Wikipedia, but studied under Alfred Stevens, the sculptor, although we don't know how this came to pass, or when it happened. (Stevens died in 1875 when Bundy would have been 13 years old.) Wikipedia also says "Bundy specialized in historical genre paintings in oil and watercolour, usually in a very detailed and narrative style, a genre which was very popular in the Edwardian time Bundy lived in. He exhibited at the Royal Academy in 1915 and at the Paris Salon in 1907." While the bulk of his genre paintings feature 17th century settings, he has a number of Regency-set ones including a series of scenes inside inns showing moments of interaction between mud-stained huntsmen and flirty serving girls.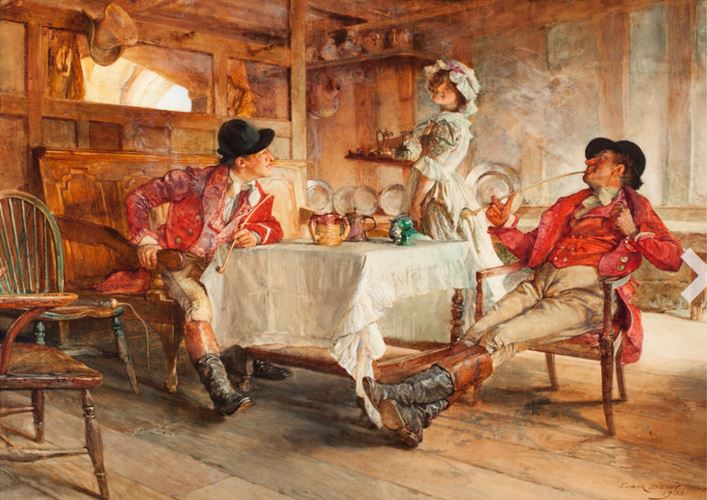 17) Henry Gillard Glindoni (1850-1913)
This artist, born in London, learned his art from his grandfather, a theatrical scene painter. He followed that path until urged to study art by his theater friends. A specialist in landscapes and historical genre pictures (many of them "Regency"), he exhibited frequently from 1872-1904, at the Royal Academy, Royal Institute and many of the different art societies. A few may be seen here: https://artuk.org/discover/artworks/search/actor:glindoni-henry-gillard-18521913 and a few can also be seen here: http://viticodevagamundo.blogspot.com/2019/11/good-people-by-henry-gillard-glindoni.html This one below may be familiar, but he often is not credited as the painter: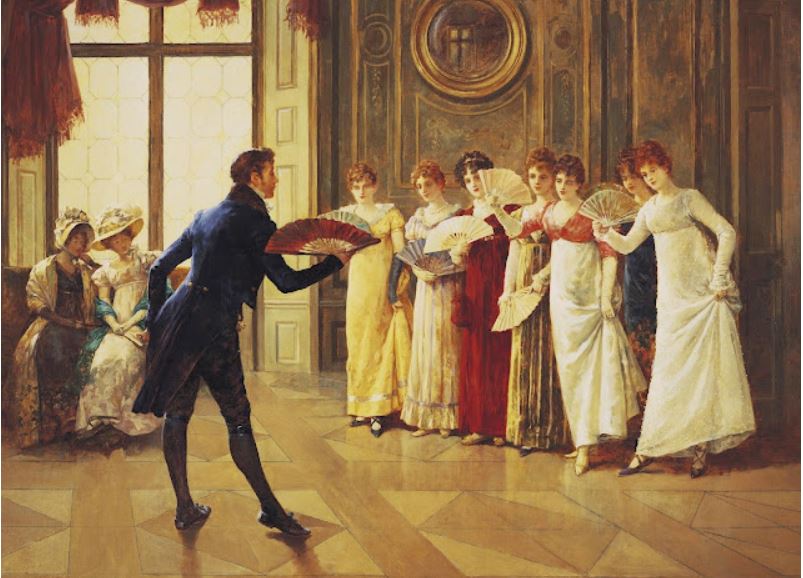 The list of artists above is by no means complete, but I have tried to include those who seem to have been the most prolific. I'd love to hear in the comments about any others you have come across or who are your favorites!
The Decline of the Trend
Frank Moss Bennett died in 1952 and John Sanderson Wells died in 1955. They seem to have been the last of their breed. You may note that most of the more prolific genre painters who included Regency among their chosen settings died earlier in the century, at least by the 1930's if not by the turn of the century. I find it interesting that Wells's work was exhibited as part of the 1948 Olympics art competition, for it seems to me by then the trend was already fading if not over.
The Pears Soap Annuals were published between 1891 and 1925. The Pears Soap story is an interesting sidebar connected to genre art –the soap was developed in the Regency and first began to be sold in 1807. Many of the company's innovative marketing approaches later in the century were the first of their kind and introduced concepts still used in marketing today. The soap is still being sold today as well, although now it is made in India rather than England. (Read more at: https://en.wikipedia.org/wiki/Pears_(soap) )
A few sources if you are interested in learning more about genre painters or some of the particular artists I have mentioned here:
Philip Hook and Mark Pottimore, Popular 19th Century Painting: A Dictionary of European Genre Painters, Woodbridge, Suffolk: Antique Collectors' Club, 1986
Maureen Elizabeth Son, Frank Moss Bennett, 1874-1952 (The Forgotten Artist)
Hardy, Kimber G., The Hardy Family of Artists: Frederick Daniel, George, Heywood, James and their descendants. Woodbridge, Suffolk UK: ACC Art Books, 2016
Please do let me know if you have favorite Regency genre artists you think I should have included in this overview!