When I need a lift, I'm drawn to sparkly, shiny things. I like making them (here are some beaded snowflakes I made for a church fundraiser). As an author, I also like surfing around and looking at sparkly things, calling it research.
Here are a few
items I love. This pair of amber earrings from Ruby Lane is just lovely. At $3500 they are a bit out of my budget, of course. So now I'm fighting the temptation to go browse Fire Mountain Gems (my go-to jewelry makers' porn) to see if I can get findings to create my own version. If I do that, I'll report back on how it went.
One thing that has always fascinated me is Georgian era paste–you know, the stuff that the aristocrats in our stories use to create replicas of the heirloom jewelry they sell to pay gaming debts. To me, it always sounded like something inferior, but having seen some examples, I think it's lovely. I've been infatuated with this paste parure from Georgian Jewelry for a number of years now, sadly sold but I can still admire it from afar.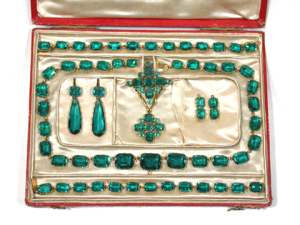 The happy news is that there are jewelry makers out there creating lovely and affordable designs that can mimic favorite Georgian and Regency styles. One can find a number of them on Etsy.
These "emeralds" from Sacred Cake look as lovely as those in the parure. Maybe I need a new Regency gown to go with them.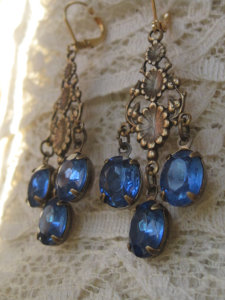 And how about these girandole earrings from Dames a La Mode: Accessories for the Lady of Quality? (Don't you love the store name?)
Do you enjoy sparkly things? Have any favorite period or period-inspired accessories? What are your favorite sources for them?
Elena
www.elenagreene.com