Let's face it, there are a lot of icky things about the Regency (dukes, for instance) as well as the things we love (well, dukes, I guess). But one of the stranger and ickier things I came across recently was the mercifully short-lived craze for child actors in the early nineteenth century: child actors in the sense of children playing major roles in a cast of adults.
For a short time, the London theater scene was dominated by child actors. Charles Dibdin offered an acting school for children at the Royal Circus, and Henry Francis Greville at the San Souci offered regular evenings of child players.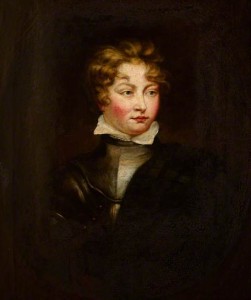 Possibly the most famous child actor was Master Betty (William Henry Best Betty, 1791-1874), the son of a once wealthy Anglo-Irish family.  Mr. Betty Sr. discovered a goldmine in his stage struck son, who determined to be an actor after seeing Mrs. Siddons perform when he was eleven. Master Betty became a sensation, playing such roles as Hamlet (below) and Macbeth. His father joined forces with an unscrupulous manager, and one of their most popular money-makers was to charge gentlemen (in the widest sense of the word) to visit Master Betty in his dressing room.
Master Betty made his Covent Garden debut in 1804, following appearances in Ireland and Scotland and a bidding war between that theater and Drury Lane. A detachment of guards was hired to keep order in the house. For two years he hobnobbed with the great and powerful, and his career eclipsed those of Kemble and Siddons. But in 1806  he was hissed off the stage playing Richard III–and coincidentally when he hit puberty. He had made enough money to restore his family's fortune, and entered Cambridge in 1808. But the life of a country gentleman was not enough–he made several unsuccessful attempts to revive his acting career, and in 1835 tried to start his fifteen-year-old son on an acting career.
Another reason for his downfall was the emergence of a rival, Miss Mudie. Dickens, who almost certainly met Master Betty, gave this description of a child actress in Nicholas Nickleby. The daughter of Vincent Crummle is supposedly ten years old and "the idol of every place we go into."
The infant phenomenon, though of short stature, had a comparatively aged countenance, and had moreover been precisely the same age…for five good years. But she had been kept up late every night, and put upon an unlimited allowance of gin-and-water from infancy, to prevent her growing tall.
In a rare show of good taste, the audience was revolted by Miss Mudie's role as the heroine of The Country Girl, an adaptation of William Wycherley's The Country Wife. If you're not familiar with the play, it's about a naive woman, married to an older man, who brings her to swinging Restoration London. There she meets up with a rake, whose last name is Horner, nudge nudge, who's currently passing himself off as a eunuch so that husbands will be blissfully ignorant of his designs on their wives. And so on. Miss Mudie was eight years old and so small for her age that the actor playing her lover had to go on his knees to embrace her.
During the ensuing uproar, Miss Mudie, who had chutzpah if not acting talent,  announced from the stage, "Ladies and gentlemen, I have done nothing to offend you; and as for those who are sent here to hiss me, I will be much obliged to you to turn them out."
Actor-manager John Philip Kemble came on to beg that Miss Mudie be allowed to continue. As a witness observed, "All was noise and confusion … the curtain fell upon the most imperfect performance ever before witnessed on a London stage."
Now here's a plot bunny going begging. Child star falls out of fashion, what is he/she going to do for the next, uh, seven decades? Or, an impoverished parent of a child prodigy–what's the ethical thing to do (still a relevant question today, sadly).
Oh, and if you're in the Washington DC, area please visit Riversdale House Museum this Sunday where we're having an author event, and I'll be reading/signing some of my allegedly PG-rated books. Info here.