I beg your indulgence for offering a second post based on my visit to the Concord Museum back in June, but there was just so much to love and share in that small exhibit on "Fresh Goods"! I do recommend it, if you are within a reasonable distance of Concord, Massachusetts. It runs through the end of this month. (Besides, Concord is such a great place to visit, with a rich history and strong literary connections as well. But let me not digress.)
When I hear "needlework" in connection with our Regency period or earlier times, I tend to think of those often-dreaded embroidery samplers, or funeral memorials, or other sorts of decorative needlework to be framed and hung on walls, handkerchiefs, or pew cushion covers and altar hangings to be donated to the local church.
What I saw at Concord reminded me that in those times, the essential skill of embroidery had many more practical applications.
For example, have you ever seen "pocketbooks" like these flame-stitched examples from the exhibit? (Sorry for the white dots-light reflections!) More like what we would call wallets today, they were flat and meant to fit into a man's deep coat pocket or perhaps inside his waistcoat (but you wouldn't want to spoil the fashionable line!). 
A woman could have carried one of these, also, when "pockets" were still tied around the waist and concealed underneath the skirts. Harder to do once the columnar styles of the Regency fashions came in! The design of the embroidery was a popular pattern in the late 18th century and early Regency. I've seen it on upholstered furniture of the same period, for instance. It is based on even older examples of needlework known as Bargello or Hungarian point. Can't you just picture the hours of stitchery a loving wife put in to make one of these covers for her man, so he could be at the peak of fashion?
The expert quality of the embroidery on this beautiful example of a classic Regency dress was amazing, as was the effort put into making a plain muslin gown into something far more fashionable. My untrained eye could not see how the museum people determined that this dress was hand-embroidered to imitate spotted muslin, but that is what they said! I wish I had better photos of it to show you.
Of course, thinking about a young woman spending endless hours working on her dress for the sake of fashion catches my imagination and tugs at my heart, since she apparently couldn't get or couldn't afford genuine spotted muslin. She knew just what she wanted!
Moving on from needlework, I want to share this beautiful bright red shawl (that I would have loved to take home). I am no expert on the history of dyes, so I'm not sure when chemical dyes first began to be used, but I do know that red this bright was historically a challenge to produce. 
I also loved that they had a portrait of the owner wearing this shawl –it must have been a favorite of hers, clearly special! She was Ellen Tucker, who married famed Concord resident Ralph Waldo Emerson in 1829. (Sadly, she died of tuberculosis just 2 years later). A quick survey of Regency fashion prints show up lots of examples of red shawls, so she was certainly a la mode!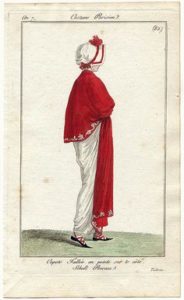 Shawls were such an especially important accessory during the Regency, I was surprised not to see more examples of them in the exhibit, but perhaps the museum does not have many in their collection. Given the skimpiness of the ladies' dresses in the Regency period plus the lack of central heating, well, everywhere, you can understand why shawls were an essential accessory. Just to double up, one print shows a dress made from shawls on a lady preparing to don her shawl!
 Regency shawls were generally much larger and longer than modern ones –all the better to wrap around oneself, but is it any wonder that young ladies had to be taught the proper way to drape and wear them to be fashionable? Yet another social pitfall I'm pretty sure I would have failed as a Regency lady…although here is a picture of me in costume (some 20 years ago!) wearing a shawl with my dress, just to prove it had not quite slipped off yet!
Perusing the fashion plates looking at shawls, I ran across these two plates, one 1809, one 1822, that both show the popularity and continuance of the color and style of this fabulous purple dress that was in the Concord exhibit. It doesn't fit into today's blog theme very well, but you can see why I didn't want to leave it out! It shows dramatically how Regency style evolved from the very straight early styles (the white dress) to the more triangular emphasis of the 1820's, leading toward the Victorian era.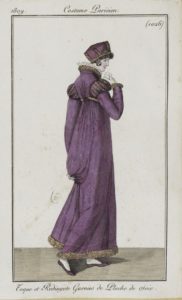 Do you enjoy doing needlework? If so, what kind? Or would you have found it an unhappy chore if you lived during the Regency? Do you think you would have had the patience to embroider an entire dress like the white one pictured above? Or, how about shawls? Do you ever wear them? What do you like or dislike about them? I'll be wearing one Sunday at a bridal shower if the restaurant's AC is too cold!