I'm excited to share my new discovery of a great research source! (I hope I'm not the last to find out.) The U.S. National Library of Medicine has a truly awesome website offering a ton of databases and a massive library network. Its offerings on the History of Medicine include a collection of 71,000 downloadable images, and through the Medical Heritage Library, maybe one of the best collections of digitized period books on medicine –more than 9,000 books!
Does one of your characters have a medical issue? Or the need to know how to deal with someone else's medical needs? We all know about laudanum, but how much more do we know about medicine in the Regency? I wish this goldmine had been available when I was researching my early books. Just thinking quickly through my first four stories I recall that my characters had to deal with hypoglycemia, infected wounds, psychological trauma and epilepsy –all (at one level or another) medical issues.
Oh, doesn't that make you want to run right out and read those? LOL!! Obviously, these aren't the main focus of any of the stories –they are love stories, after all. But health and medical needs are part of everyday life, so if we want a realistic world for our characters to live in, I think we shouldn't ignore these. Do you agree? Or do you think it ruins the fantasy?
As with any great resource, you have to be careful not to get sidetracked (or you can give in and have fun roaming)…I followed a link to the Medical Heritage Library (http://www.medicalhe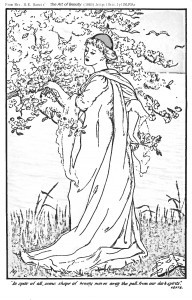 ritage.org/ ) and discovered they had some fascinating coloring pages to offer, and a "medical pop-up book" from the 17th century…with a video about how they handled digitizing this! So many treasures, so little time… The MHL, "a digital curation collaborative among some of the world's leading medical libraries, promotes free and open access to quality historical resources in medicine" and as said above, has an amazing collection of fully accessible digitized material.
The databases you can find at the NLM site include Toxnet, which can help you find info on poisons, among other useful things, and MeSH (which stands for Medical Subject Headings) where you can learn about medical terminology. And another thing they have is a worldwide map directory of where to find History of Medicine collections. Each spot on the map links to specific libraries and includes a description of their holdings. Is there one near you?
Just to give you a glimpse of the NLM site:
Digital Collections is a free online archive of selected book, serial, and film resources. All the content in Digital Collections is in the public domain and freely available worldwide.
Rare Books & Journals: Books Published before 1914: The historical book collection includes related areas of social, economic, and intellectual history. It includes over 580 incunabula (books printed before 1501), some 57,000 16th-18th century books, and 95,000 items published between 1801 and 1913, from all over the world, in many languages. Among works of popular and ephemeral interest are home health guides, pharmaceutical almanacs, patent medicine catalogs, medical equipment catalogs, personal narratives, first-hand accounts, broadsides, pharmacopoeias, illustrated herbals, and botanical name indexes (materia medica). Medical history landmarks in the collection include Andreas Vesalius' De humani corporis fabrica (1543), William Harvey's Exercitatio anatomica de motu cordis (1628), William Withering's An Account of the Foxglove (1785), and Edward Jenner's An Inquiry into the Causes and Effects of the Variolae Vaccinae (1798), as well as comprehensive holdings of the works of major medical figures such as Hippocrates, Galen, Paracelsus, Boerhaave, and Osler.
Archives & Manuscripts: Searchable database of material, most dating from the 17th century to the present (which they call "modern").
Images from the History of Medicine (IHM): A searchable database of images from IHM including fine art, photographs, engravings, and posters that "illustrate the social and historical aspects of medicine dating from the 15th to 21st century." (granted many of them are portraits, but I've included with this post a couple of the Regency images I found)
Of course, if the material you want hasn't been digitized, you still have three recourses: 1) go to Washington DC and visit the NLM in person, or 2) see if the material is available via inter-library loan, or 3) check if the material is available at one of the History of Medicine collection locations near you (see above). The Library does not lend historical material in its original format; however, they do lend copies of journal articles, copies of selected manuscripts, books on microfilm (when available), and copies of films and videos. The Library's interlibrary loan services are available only to libraries, not to individuals. Individuals who want to borrow NLM material should make a request through a local library.
So, what do you think? Should medical issues be part of the Regency world we recreate? How much research would you do to make sure you had an accurate portrayal of the way such things would be handled? Did you already know about the NLM?