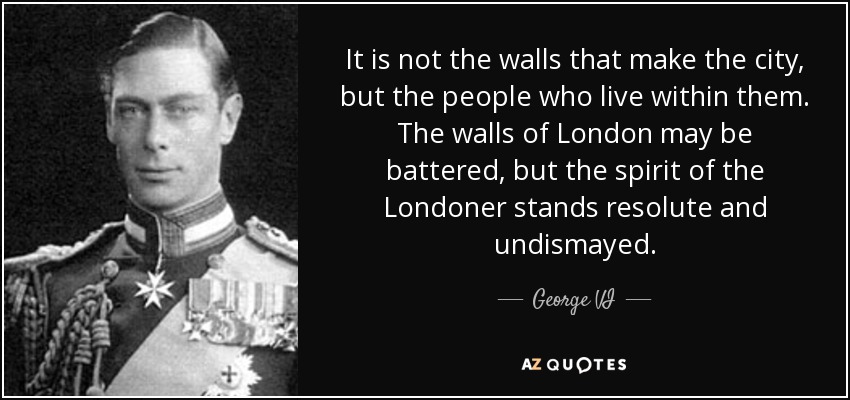 George VI spoke those words in a broadcast on September 23, 1940, during the London Blitz, but are they not as true today?
I wish I were in London today to stand with Londoners, resolute and undismayed.
On Saturday night, June 3, a white van hit pedestrians on London Bridge, then three men got out and stabbed people in Borough Market. Seven people were killed and 48 injured. The police shot and killed the three attackers.
My friend Kristine Hughes Patrone of Number One London Tours is in London with our friend Denise from the Duke of Wellington Tour. Their Sunday plans were to include  visiting Borough Market. She said on Facebook yesterday that they walked across Waterloo Bridge and that Londoners were out and about.
Resolute and undismayed!
Last May Kristine and I wandered through Borough Market…

It is difficult to believe anyone would want to terrorize such a lively, unique, nurturing place.
The Borough Market dates back to medieval times. During the Regency, the market was an institution of national significance, devoted solely to the fruit and vegetable wholesale trade. Now it offers retail food items from both British traders and International ones.
My heart is there, at Borough Market, today. I know that in no time it will return to its former vitality.
Because that is the spirit of London and Londoners.
Tell me something you love about London! Let's celebrate the city that features so prominently in our Regency romance novels.