"All the town's a slide,
And all the men and women merely skaters,"
rhymes PUNCH in 1850 (with a nod towards the Bard), and indeed, 19th-century Londoners were keen skaters: when during a strong frost in January 1850 all the ornamental lakes in the parks of London froze, people turned out in their thousands to slide or skate along the ice. THE ILLUSTRATED LONDON NEWS talks of 12,000 people assembling in St. James's Park alone to enjoy the wintry spell.
The Serpentine in Hyde Park was another favorite with skaters, and one of Richard Doyle's illustration from "Manners and Customs of ye Englyshe" depicts the crush.
Apart from the bodies of water, the streets themselves often froze over, no doubt helped along by the many child workers out and about, who, PUNCH suggests, took joy in turning the main thoroughfares of London into giant slides: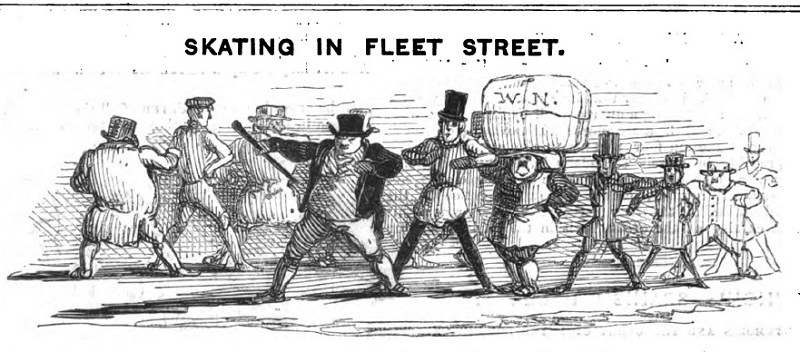 But of course, Mr. Punch has already come up with a brilliant solution to this particular problem: "As slides in public thoroughfares, during the frost, are now 'great facts,' which the police officially recognise, there is only one thing to be desired, namely, that some little order should be observed on the foot-pavements, so as to make a slide a convenient  and rapid mode of transit. […] By the present system, under which slides are merely tolerated, and are only partially carried out, some of the public who are unprepared for them, keep tumbling about in a very awkward manner. A well-regulated routine of slides, under the control of the police, would be an understood accommodation for all, and order could easily be preserved by sending policemen up and down each series of slides at proper intervals." 🙂
After all, tumbling about is not nice, as some of the PUNCH contributors know only too well: this little initial letter is "drawn from experience":
What about your town? Has winter already come to where you live? (Frankfurt turned into a Winter Wonderland on Sunday, and we'll probably get more snow toward the weekend.)