One of the unexpected treasures from the Duke of Wellington Tour was seeing the gatehouse of Reading Abbey.
Reading Abbey is a set of ruins in the center of Reading in Berkshire founded by Henry I in 1121. It was destroyed in the 1500s when Henry VIII dissolved the monasteries, but a few buildings remained, including the gatehouse.
The gatehouse is noteworthy in "our" era, because Jane Austen, around ten years old at the time, and her sister Cassandra briefly attended boarding school within its walls. The girls were instructed for only an hour a day in dancing, drawing, French and needlework. In contrast, boys would spend hours studying the classics. Jane's father took them out of the school after 18 months and Jane never returned to formal schooling again.
Here is a print of the gatehouse around Jane Austen's time:


This is a photo I took on the trip: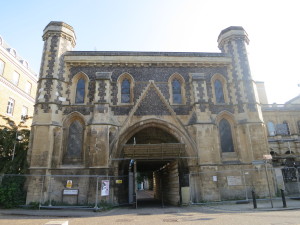 On the facade of the gatehouse were stone faces. Certainly these must have dated back to the early days of the Abbey. Here are a few of them:

Other walls of the ruins of the Abbey were visible, but we could not walk to them. Across the street from the gatehouse was the lovely Forbury Gardens, but that is a topic for another day.
(I certainly hope you are not sick of my Duke of Wellington tour blogs!)