One of my favorite stops on the Duke of Wellington Tour was at Stratfield Saye, Wellington's country house. Like when Amanda and I visited the house in 2003, the weather was incredibly beautiful.
Here's a view of the house from the back. It is so beautiful!

After the victory Waterloo, a grateful nation gave Wellington the funds to buy a property commensurate with his status as a duke and the hero who finally vanquished Napoleon. What was envisioned was something along the lines of Blenheim Palace. It was supposed to be called Waterloo Palace. Wellington liked Stratfield Saye because it was near enough to London and close to the property of a friend, but he ultimately abandoned plans for the Waterloo Palace because of the expense. He did improve the house, adding central heating and water closets….but not until after his wife passed away.
We could not photograph the inside of the house, but that was okay with me, because the house is still a family home. The present Duke of Wellington, who is 99 years old, still lives on the estate in another residence. His grandson and grandson's family live in the house at present. As you go through the house you can see evidence of this fact, including a desk with stacks of paperwork, pens, and sticky pads on it.
Front of the house:

Another sign that this is a country home still in use, was the sight of horses in the paddock.

No visit to Stratfield Saye would be complete without a visit to Copenhagen's grave. Copenhagen was Wellington's horse during the battle of Waterloo. The Duke rode Copenhagen during the entire battle. Copenhagen retired to Stratfield Saye and, after his death at 28 years, was buried under a beautiful oak tree on the property.

In the stable buildings are exhibits of memorabilia from Wellington's life. Also on display is Wellington's funeral coach, made in part from the iron of cannon from the battle of Waterloo. It is a Victorian monstrosity that the Duke would have hated, but it was lovingly created by teams of workers and seamstresses in a remarkably short period of time.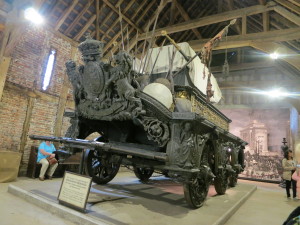 In the room housing the funeral carriage a recording of the accolades recited at Wellington's funeral plays over and over. When I first heard this recording in 2003, I burst into tears, realizing that, in a way, I was in the presence of a truly great man.
Ever since that time, I've been a Wellington groupie and remain in armed combat with Kristine Hughes as to which of us is Wellington's favorite!
(I am….)