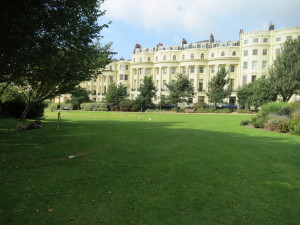 As part of our Duke of Wellington tour, we visited The Regency Town House in Hove.
The Regency Town House was built in the mid-1820s when sea bathing became popular and the Prince Regent made nearby Brighton fashionable. It was conceived much like vacation properties are conceived today. The investors and the builder created the project, Brunswick Square, pre-designed town houses built around the square and in sight of the sea, and then they sold each unit.
The result is a beautiful of example of Regency architecture at its finest.
One of these beautiful houses is being restored to how it would have appeared to those first buyers. It is both a historic site and a restoration project in process. I visited the project in 2003 so this project is a very long-standing one, limited only by the funds available to do the work.
The drawing room has been restored to its original Regency colors and I'm sure you will be a little surprised. The decades and centuries of paint were carefully sanded away until reaching the original paints. Minute samples of these paints were analyzed chemically and then recreated.
The restoration is far from complete, as you can see in this photo of the stairway. But some of the glory of the original house can be imagined.
In another unit on the square, the lower level of the town house is being restored. This is the "downstairs" that the servants inhabited and it is complete with housekeeper's room, wine storage, servants' dining room, and the kitchen.
The kitchen is in the far back and is illuminated by skylight, which also serves to draw the heat up and out of the kitchen.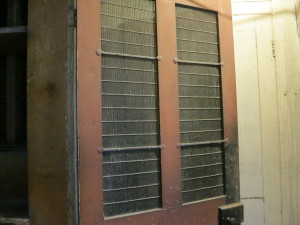 One of the most interesting parts of this level was the meat locker, which may be the most intact meat locker of this era. The walls are a sort of screen that allows air to circulate but protects the meat.
Here are some more photos:
The kitchen and the servants stairs:

The hall floor tiles and a view of the front door from the stairway: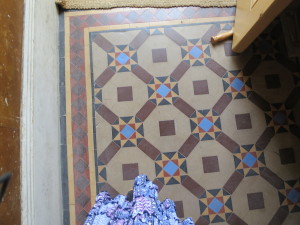 After our visit to The Regency Town House we went on to the grandest beach house of all time–The Royal Pavilion!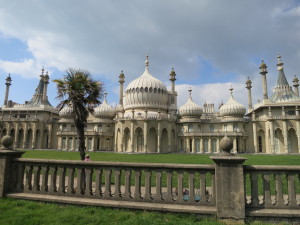 Unfortunately, I could not take photos inside the Pavilion, but it is not to be missed. You can see some images of the interior here.
(Gosh, I miss being in England!)