First of all, I have to send a shout-out to Risky Carolyn for posting this very appropriate, and timely, graph of the writing process on Facebook.  I am now firmly in the "write everything and cry" phase, since this WIP is due June 1 and is at that stage where the characters do want to listen to anything I say.  I will see you when I creep out of the cave in a couple of weeks, looking to replenish my chocolate supply.
What am I writing???  Glad you asked!  I am working on book 3 of my
Kate Haywood Elizabethan Mystery series, Murder in the Queen's Garden, set in the summer of 1559 at Nonsuch Palace, while Queen Elizabeth is on progress to various palaces and private homes while the weather is warm.  It's set at Nonsuch Palace, and I've had so much fun researching this most unusual castle.  (though I must admit–I know of no real-life horrid murders that took place that, so I made a couple up…)
Nonsuch, as the name implies, was different from any other royal palace in England, smaller, more luxurious, more elaborate, meant to rival the splendid royal chateaux in France (like Chambord).  Henry VIII began the building in Surrey on on April 22, 1538, tearing down an entire village and old manor house in order to do so.  It was mostly finished by 1541, but not completed for several years after that.  In fact, it was still incomplete when Henry died  in 1547.   In 1556 Queen Mary, his daughter, sold it to the Earl of Arundel, one of the richest lords in England who completed it.  (In my story, Arundel has some vain hopes of marrying Queen Elizabeth, and hopes to use the palace to impress and entice her…).  It returned to royal hands in the 1590s, and remained royal property until 1670, when Charles II gave it to his mistress, Barbar Castlemaine.  She had it pulled down around 1682–3 and sold off the building materials to pay gambling debts.  Some elements were incorporated into other buildings, but no trace of the palace remains on its site today.  Some pieces are held by the British Museum.
Only about three contemporary images of the palace survive, and they don't reveal very much about either the layout or the details of the building. The site was excavated in 1959–60. The plan of the palace was quite simple with inner and outer courtyards, each with a fortified gatehouse. To the north, it was fortified in the medieval style, but the southern face had ornate Renaissance decoration, with tall octagonal towers at each end ornamented with classical statues of gods and goddesses and bas reliefs.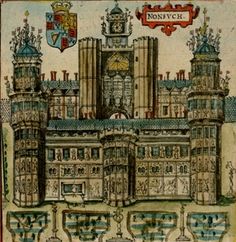 The 1959 excavation of Nonsuch was a key event in the history of archaeology in the UK. It was one of the first post-medieval sites to be excavated, and attracted over 75,000 visitors during the work.  A great research source I've used in this story is  2005's Nonsuch Palace: The Material Culture of a Noble Restoration Household by Martin Biddle.  There's also a great website about the excavation work and a recreated model here.
I've loved spending time at Nonsuch in my imagination while I work on this story!!  (though i admit,at this point I just want it to be DONE).  I hope you'll enjoy reading it.  Murder in the Queen's Garden will be out in February 2015….
What vanished palaces from the past would YOU want to visit with your time machine???