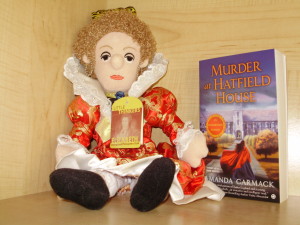 OMG, I can't believe I almost forgot it's Tuesday!!  I have two projects with revisions that just landed on my desk, plus the packing saga continues.  But today I have a new book out!!!  Book one in my new Elizabethan Mystery series (writing as Amanda Carmack), Murder at Hatfield House.  (see it on Amazon here or visit my website for excerpts, historical info, etc)
In the meantime, I am having an Elizabethan Week all week at my own blog!  Visit today to vote on your favorite Elizabeth on film….
Do you read many historical mysteries??  What are your favorites?