One of the many things I love about the late eighteenth century is men's waistcoats. In my opinion, they pretty much reach their zenith of beauty and design during the 1780s/1790s. As men's suits become plainer, their waistcoats hang on as the major garment for adornment and design. Fanciful embroidery rules the day, often pictorial in nature, sometimes incorporating spangles, bullion thread, lace and netting overlay, and even paste/glass gems.
They give an author a means of expressing character via clothing. Is the hero conservative in his clothing choices? Does he let himself have a little fun with a waistcoat depicting ballooning, fanciful beasts, humble rural landscapes and hardworking farmers? Is he peacock who lets his waistcoats run riot with lace and spangles? My novelette, Temptation Incarnate, has such a hero. My cover artist and I had a blast figuring out that we could add a pattern to his waistcoat (even if the detail is almost impossible to see; we did it for US!).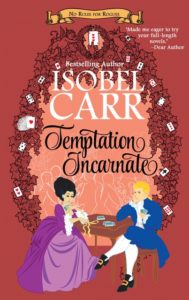 Recently, Zack Pinset (Regency gentleman extraordinaire) gave a wonderful online workshop about Regency men's clothing (follow the link and enjoy!). I immediately learned new things about men's stockings from him (I had no idea about the channel for a tie/internal garter on some of them!). But it was his section about waistcoats that really caught my eye. Before the workshop was even over, I'd found the book he shared and pounced. My copy arrived last week, so I thought I'd share some highlights of Gilets Brodés modéles du XVIII.
Below is an example of a pre-embroidered waistcoat. This is how most of these would have been sold. They would have been imported from China or France, in a one size fits most pattern that would be cut and altered to fit the wearer. It comes complete with pocket flaps and buttons.
If only my French were good enough to read the book … *sigh*