Bizarrely shown on three cable channels, A&E, Lifetime, and History, the BBC's  adaptation of War and Peace seems to have come and gone without much notice. And it deserves a lot of attention because this is one of the most dazzling series I've ever seen.
Here's one reason why it's so brilliant:
I had never read it before but was blown away with what a wonderful story it is. I thought it would be daunting and oppressive, but you just love the characters. It feels modern and fresh – funny and sexy, even. It's mostly about these exciting young people on the threshold of their lives… really it's the most fun I've had since Pride and Prejudice.
That's Andrew Davies, who wrote the screenplay for the 1995 P&P and who tackled Tolstoy's huge masterpiece, which tells the story of three interwoven families plus a zillion secondary characters, against the backdrop of the Napoleonic wars. More from this interview with him and the cast from Harpers Bazaar.
Everything about this is superb–the acting: it stars a lot of familiar faces, such as Lily James as Natasha who was pretty much wasted in Downton Abbey, and was great (but not as great as in this passionately nuanced role) in P&P&Z; Edward Norton, Jim Broadbent, Stephen Rea, Paul Dano, Gillian Anderson, and many more. There's a list here at bbc.co.uk where the actors talk about their characters.
It was filmed on location in Russia, Lithuania and Latvia, with lots of extras. There were extraordinary battle scenes (lots of blood), and a military advisor who'd seen action advised on these, so they had an amazing documentary sort of feel.
The retreat from Moscow was  horrific and harrowing.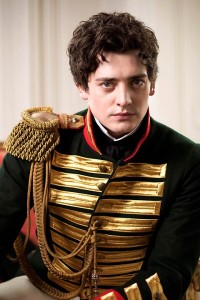 And the clothes, oh lordy the clothes (because if you visit this blog you know it all comes down to the clothes).  Since we're on the subject of warfare, I've never seen such splendid uniforms, embroidered, gilded, tasseled, and their wearers bursting with testosterone.
One of the few costume fails was the designer's attempt to express Gillian Anderson wearing an ooh la la French number. Really? Could the costume historians among us chime in? Because somehow, oh, I don't know, I think this looks more high school prom than anything else. One shoulder?!!
Most of the clothes were gorgeous.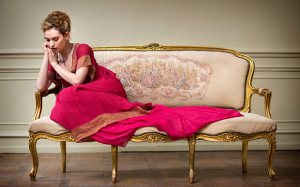 To really get an idea of the clothes, and the quality of the production, you can see some selected scenes (but the longer clips can't be viewed in the US) on the BBC' s site:
http://www.bbc.co.uk/programmes/p039wcdk/clips
You can take a quiz on your knowledge of the background of the book (I'm sad to say I failed miserably. Well, I did read it last in high school and that was a long, long time ago):
http://www.bbc.co.uk/guides/zw7cj6f
And here's a truly swoonworthy excerpt of Natasha and Andrei (James Norton) dancing. He has truly humungous epaulettes.
Have you seen it? What did you think?