I want to apologize for missing last month. As you know, there was kind of a lot of stuff going on, and frankly, I was just too distracted.
I recently got a fascinating new research book: The Sparkling Company, Reflections on Glass in the 18th-Century British World. It was put out by the Corning Museum of Glass, and it's a deep dive into all the ways glass was used during the era. It would be a fantastic book for anyone looking to know more about the industry and uses of glass for a book (perhaps one of your protagonists owns a glassworks of some kind?). I'm sure we're all familiar with it's more mundane uses (windows, drinking glasses, mirrors, lenses, and jewelry), but there was some really interesting information in the clothing section.
Yes, they covered things like paste shoe buckles and buttons, but they also featured some more obscure uses such as "foil stones" (aka foil-backed paste) being sewn directly to clothing. This style was popular in both France and England in the 1780s (there are numerous reports of both the Prince of Wales and his sisters wearing garments decorated in this style).
Another type of glass that was a popular embellishment was jet (frequently described as "jais" or "geais" on fashion plates. This was simply small glass bugle beads that were usually black (though sometimes they are described as of "diverse colours"), and were one of the few things considered appropriate for mourning clothing (when you're supposed to be sad, but you just need a little sparkle!). You see them combined on clothing with steel sequins/spangles, which would reflect the light, but not in a super flashy way.
They also used tiny seed beads strung together to create pictures on everything from shoes, to garters, to ridicules (sometimes called "sablé"). I usually think of this as a more Victorian form of decoration, but these examples are from as early as the 1730s.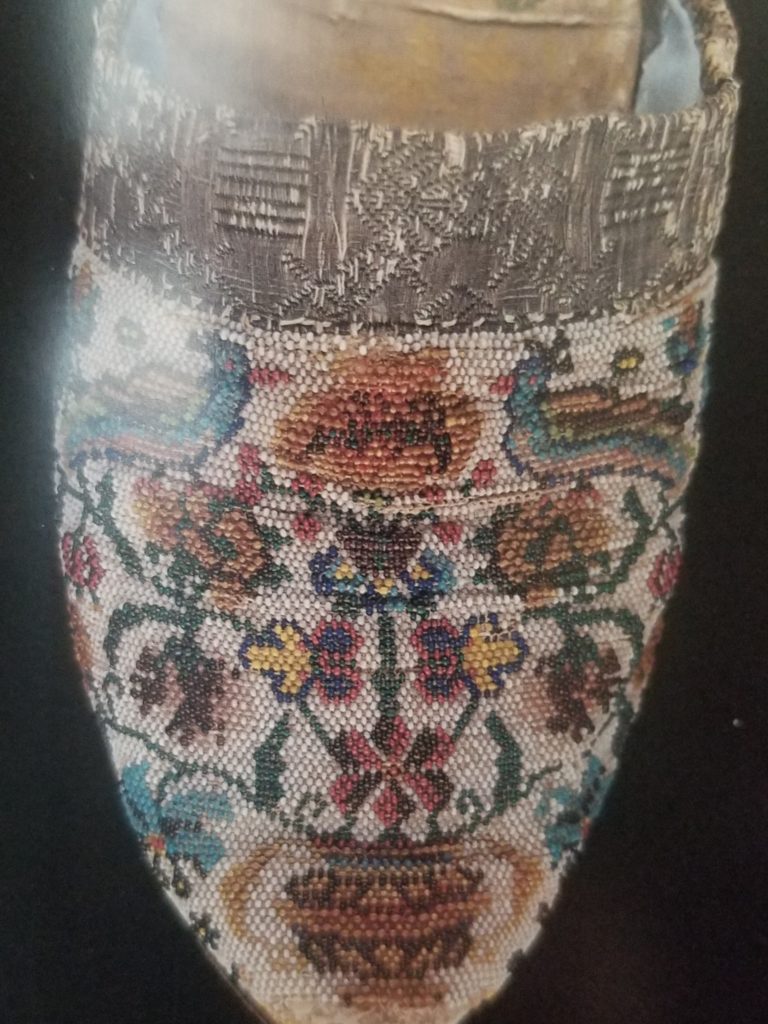 And because you all know how much I love a fancy, naughty, garter…