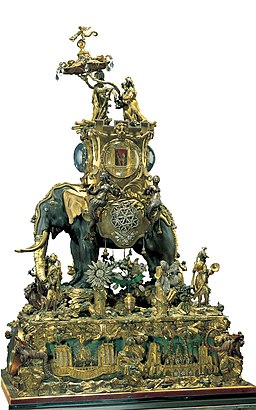 This is the third time I've written a blogpost here that references automatons. Can you tell I think they're super cool? But I have a very exciting reason to be writing about them again! I have a new story –a Regency romance short story—that I'll be giving away free to my newsletter subscribers, in which the hero turned out to be a collector of automatons. Yay!
Why am I so excited about "Lord Corsham's Collection"? (Besides the automatons, that is.) To understand, hear my confession: I am not by nature a short story writer. My story ideas always seem to be long. Even when I think I've got one that can be told in the length of a novella (and won't take as long to write, ha-ha), the idea inevitably spins itself into a full-length novel. Lord of Misrule, for instance. When I started that book, I thought for sure it could be a novella. It takes place during the twelve days of the Christmas season. Who knew so much could happen in such a short span of days?
"Lord Corsham's Collection" is different. I woke up one morning with the opening lines in my head, and knew right away this was a short story, the capture of a single hour that changes everything for two lonely people. My first!! I had so much fun writing it and am excited with how it turned out. If you are interested in reading it and are not signed up for my newsletter, you can fix that by clicking here (or sign up at my website: https://www.gaileastwoodauthor.com). I'd love to share the story with you as soon as it's ready and also keep in touch with you!
Designing the collection that features in the new story was part of the delicious fun, and the story includes an author's note afterwards in case you want to learn more. Just to tempt you, today I'm offering you some pictures of real automatons and a video link or two to share my fascination. Automatons have been popular with the wealthy since the 16th century, but their biggest "golden period" actually postdates the Regency, in the second half of the 19th century. In the years since I last posted about them here–2015 and 2017, I've learned so much more about them, the history of who made them, and the different sorts of forms they could take– anything from a small pocket watch
to a snuffbox (which might have a singing bird that pops up, or all sorts of other types of automation)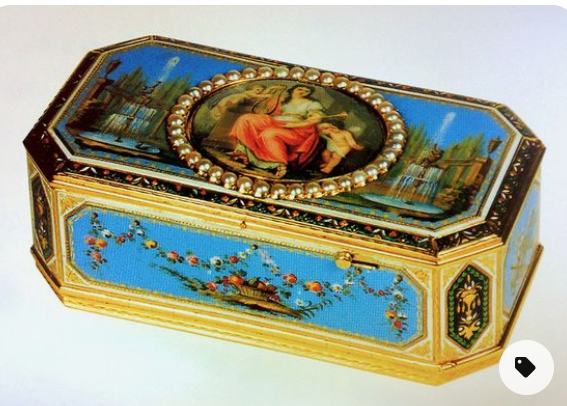 to larger than life-sized replicas. These might be covered in jewels, real or paste (see Isobel's post just prior to this one, for more about fake jewels). The jewelers and watch-makers involved in producing automata were not always up-front about which they were using, to be sure.
The automatous action(s) offered could be anything from copying life-like movements and sounds to animated scenes (even erotica, but I'm not showing you those! <g>). Check out this video of the famous Silver Swan automaton that is now in the Bowes Museum in Barnard Castle, Co. Durham, England.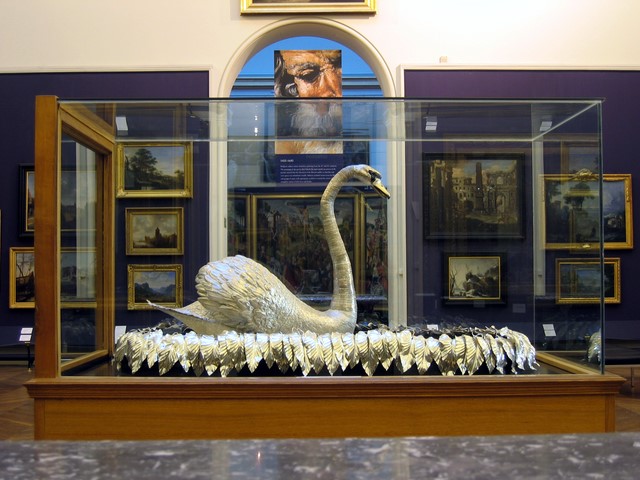 Or, try the spectacular Golden Peacock Clock (a whole group of figures) still in Russia, where it was first sent and assembled as a gift for Catherine the Great!
The book I'm currently working on, which is Book 3 in the Little Macclow series, takes place for the most part over an even shorter span of days than Lord of Misrule. So far, no one's collection of anything figures in the tale. Will A Little Macclow Wedding turn out to be a novella? Well, we'll see, but it isn't feeling like one so far. My hero and heroine both have some growing to do and lessons to learn, hearts to change. I don't think either one of them is going to yield easily or quickly. If you're signed up for my newsletter you'll be kept up-to-date on how this one progresses and you'll be first to know when it comes out, too!
Do you have a passion for collecting anything? If so, what is it, and how do the people around you feel about your passion? I'd love to hear about it in the comments.
(Unattributed photos are courtesy of Wikimedia Commons)