My WIP features a curmudgeonly hero who would rather be on his estate raising sheep than out and about among society. However, in order to make the most of his extraordinary wool, he feels he needs to get into the textile business. I know nothing about making textiles. But that's okay, I know nothing about most of things I end up writing about until I start the research. I started my research yesterday with a field trip to The American Textile History Museum in Lowell, MA. Of course, my first choice of research destination in this case is Manchester, England, but Lowell is several thousand miles closer and doesn't involve getting on a plane.
The ATHM is not a large facility but it has a rather targeted collection that tells the story of the textile mills in 19th and early 20th century New England.  I went particularly to look at the machinery. Not only technology in all its phases a particular interest of mine, but I had a burning desire to be able to picture in detail what an early 19th century mill would look like. I was not disappointed.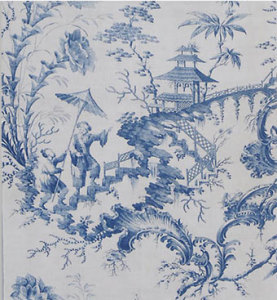 The museum houses an extensive collection of textiles, including the detailed scene shown at the left, which was printed at Bromley Hall in England between 1774 and 1811 especially for export to America or other British colonies as evidenced by the blue threads in the fabric's edge. They have a current exhibit of textiles by artists from Picasso to Warhol. This was not particularly relevant to the reason for my visit, but fun to see, nevertheless. The also have a small but wide-ranging standing clothing collection.
But, as I said, I was there for the hardware. The exhibits ranged from the late 18th to the early 20th century and it was easy to imagine that changes to the machinery were mostly small and incremental. Even the with change from water power to steam to electricity the machinery function was totally recognizable. I realize I'll have to do more research to learn exactly what the changes were and how they would have affected my characters.
If you're in the area and interested in a larger view of the Lowell mills during the mid-19th to 20th century, I recommend including the Lowell National Historical Park in your visit. The park covers a good deal more of the life and work in the mills,  including housing for "mill girls" and recreations of an actual mill, as well as canal tours of the area.
This was an excellent first look at what I need to know in order to continue with my Duke's business plans. It made me anxious to learn more. Now, if I can only arrange a trip to Manchester.