As some of you may know, my novella One Starlit Night is in the boxed set Seven Wicked Nights.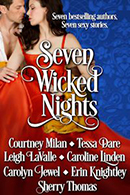 Last week, Seven Wicked Nights hit the USA Today Bestseller list at #126. This means Yours Truly and the rest of the authors in the set are bestselling authors! It's still sinking in that that includes me. This boxed set will only be available for another month or so, so if you have $0.99 ….
Amazon | iBooks | Nook
| Kobo | Google Play
Tuesday, A Notorious Ruin came out. Risky readers of this book might well recognize some of the elements in the book: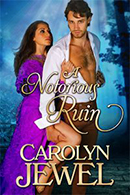 Geneva Wafers: In this post, I blogged about making Geneva Wafers from a period cook book, one of the most delicious desserts I've ever had. Seriously. Geneva Wafers make an appearance in A Notorious Ruin.

Running the office football pool: A post in which I masterfully brought together gambling, The San Francisco 49ers, and the Regency. In A Notorious Ruin, my heroine, Lucy, does the non-computer-aided version of what I did when I was running the office football pool, which is to say, compile statistics and slice and dice them to find out … The 49ers were pretty much a lock to win the Superbowl that year. Which they did. Lucy does this with the results of boxing matches and an upcoming heavyweight battle.
Boxing. The hero of A Notorious Ruin is a nobleman and a boxer. Not a professional boxer, but a very very good amateur, and he discovers that Lucy is more expert than he is. Lucy and Thrale box. Just saying.
Amazon | iBooks | Nook
| Kobo | Google Play
Coming your way in October will be Christmas In The Duke's Arms, an anthology of new and original Christmas novellas from Grace Burrowes, Carolyn Jewel, Miranda Neville, and Shana Galen. This is such a great anthology! I should have buy links shortly. In the meantime, here's some information about the stories:
A Knight Before Christmas by Grace Burrowes
Sir Leviticus Sparrow is a man of business who means business when it comes to offering Penelope Carrington marriage under the mistletoe.
With her year of mourning at an end, Penelope Carrington must remarry in haste, or her portion of her late husband's estate won't be enough to dower her younger sisters. Shy, handsome man of business Sir Leviticus Sparrow longs to give Penelope a marriage proposal for Christmas—and his heart—but Sir Levi must first foil the other bachelors scheming to meet Penelope under the mistletoe in his place.
In The Duke's Arms by Carolyn Jewel
What's a Duke to do when he's made an awful impression on the love of his life?
The Duke of Oxthorpe lost his intensely guarded heart to Miss Edith Clay when Edith's rich cousin sought to attach the duke's marital interest. So smitten is Oxthorpe with the former poor relation that he's gone through intermediaries to sell Edith a property adjoining the ducal seat.
Edith doesn't much care for the haughty duke, but as Christmas approaches, Oxthorpe reveals himself to be reserved rather than arrogant, considerate, and—blame the mistletoe!—an accomplished kisser. Will Edith hold Oxthorpe's earlier behavior against him, or will she learn that the best holiday gifts can be the most unexpected?
Read Chapter 1 of In The Duke's Arms
Licensed to Wed by Miranda Neville
If Lord Carbury could learn to take no for an answer, his marriage proposal might earn him a yes.
Wyatt, Viscount Carbury is much too busy to court a bride, but when his childhood neighbor, Robina Weston, is left orphaned and penniless, Wyatt dutifully adds marrying Robina to his list of responsibilities. Wyatt is dismayed to learn that for Robina, poverty and pride are preferable to sharing life with an arrogant, infuriating man who always thinks he knows best.
When Wyatt and Robina must endure Christmas in the country together, antipathy turns to interest, and then to unexpected attraction. Will they fight their feelings, or yield to the surprising gifts the holidays offer?
The Spy Beneath the Mistletoe by Shana Galen
Fledgling spies Q and Moneypence pursue love and a highwayman in The Duke's Arms.
A Regency Christmas with a Dash of Intrigue…
When weapons designer Eliza Qwillen (Q) and Pierce Moneypence, clerk to the mysterious M, arrive in the English countryside, they're unprepared for the dangers that await. The operatives are intent upon capturing the highwayman styling himself as the New Sherriff of Nottingham. Secret rendezvous, mistaken identities, and cat-and-mouse games challenge these fledgling agents, but rediscovering their passion for each other is the most rewarding mission of all.