This is a newsy post of news. To make it worth your valuable time, there are pretty book covers AND at the end of the post, a way to read my upcoming December release before it's actually released. Consider yourself teased. And now, on to research books, holiday stories, a hot deal, a boxing hero, a free book, and a demon.
Boxing Book!
Most of you know by now that A Notorious Ruin features a boxing hero, among other things boxing. I did a lot of reading about boxing and boxing culture of the period for this book. There are lots of great resources in publications of the time, subject, of course, to any and all agendas that a given author might or might not have. It was fun reading.
You might recall that I posted about some great research from David Snowden, particuarly his book Writing the Prizefight, which yesterday won the 2014 British Society of Sports History's Lord Aberdare Literary Prize. It's a book you should consider having on your reference shelf. Snowden is on twitter as @PierceEgan so if you're curating lists and the like, he's a good follow.
Other Book News
Did you get your copy of Christmas in the Duke's Arms yet?
There have been some very kind words about all the stories. So, hey! You should get your Holiday stories now!
My contribution is titled In The Duke's Arms. Because you can never have too many dukes. Though I will admit I limited myself to one.
Amazon | iBooks | Nook | Kobo | Google Play | All Romance eBooks | Print
Fresh Fiction (Reviewed by Monique Daoust) had this to say:
An Exciting, Sensuous and Romantic Regency Christmas!
Ms. Burrowes' story is ingenious, sensuous, and elegant, and her vocabulary is positively dazzling! It's spectacularly well-written, the characters are engaging, and it's very witty; it left me giggling several times. A delicious story of seduction!
In The Duke's Arms is simply wonderful! The characters are very complex and the interaction between Ryals and Edith is utterly compelling; it's a joy to watch Edith try to tame the gruff Duke. The story is unhurried, and it's quite the feat that Ms. Jewel can turn developing passion into something quite suspenseful. The author possesses a perfect knowledge of the period's language and idioms and writes in a fluid, flowing style that perfectly suits her characters.
Ms. Neville's contribution is joyful, playful, as expected splendidly written, and quite funny at times. I loved that Robina is a strong and independent woman within the rules imposed by society; she's a wonderful character as is the dour Wyatt.
Ms. Galen certainly does not disappoint! Those already familiar with this brilliant series will rejoice at getting a final glimpse at some beloved characters. The Spy Beneath the Mistletoe is fast paced, exciting, dynamic; the characters are delightful, and it's also very passionate. A more than fitting conclusion to a fabulous book!
And then there's A Notorious Ruin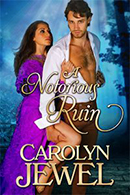 From a post at Avon Romance:
Ms. Jewel slowly exposed their good, bad & ugly & I loved peeling the many layers back & seeing their inner essence. Let chat about sex, because HELLO it's a romance. Ms. Jewel uses all forms of NAUGHTINESS with swallowing-lightening shivers & quivers to all my girlie parts & assorted NEKKIDness!
— Patty McKenna Van Hulle
Make Kay of Fresh Fiction had this to say:
A long awaited sequel blends eroticism and Regency elegance…
Jewel did a superb job of evoking the era and locale. The lovely and explicit sex scenes also rang true and yet did not pull me out of the era, which I thought masterful. I am glad that Jewel has gone back to this series, and I'm looking forward to the next of the Sinclair Sisters to fall in love.
Amazon | iBooks | Nook | Google Play | Kobo | Paper
Seven Wicked Nights — Until November 16th!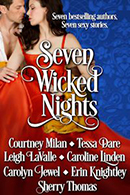 Seven bestselling historical romance authors offer seven sexy stories featuring dukes, lords, rakes, scoundrels…and the unforgettable heroines who bring them to their knees. These stories range in length from long novellas to delectable little bites.
This $0.99 collection goes away November 16th. You should get this while you can.
Amazon | Amazon UK | iBooks | Nook | Kobo | Google Play
Scandal — Still Free!
RITA finalist and free at the vendors below. If you haven't read me, this is a no-cost way to find out what you think.
This book took my breath away. – SBTB
WOW. Simply, wow. That is the only word I can use to describe this masterpiece. It has been such a long time since I have read such a rich, emotional and tension filled romance. Not only did Scandal have me hooked from the very first page, but this is the first book, in a very long time, where I had to read straight through into the wee hours of the night because I couldn't put it down. When an author can write such a book, that book is destined for greatness. I wouldn't be surprised if Scandal becomes one of the favorites of 2009, and perhaps placed on most reader's lists for all time favorite historical. – Romance Novel TV
Readers looking for a deeply emotional and very well-written book will love this one. I have a certain weakness for flawed but redeemable characters, and this tale very much hit the spot. I cannot wait to see more historicals from this author in the future. –All About Romance
Jewel plays readers' emotions like a virtuoso, ensuring they will eagerly follow her characters into dramatic, intensely passionate and gripping love stories that will steal your heart and make you beg for more. She grabs you at the first word and never lets go. – Kathe Robin RT Book Reviews
Amazon | Amazon UK | Nook | All Romance eBooks | iBooks | Kobo | Google Play
And lastly, I tease and tempt you with an upcoming release and a way to read it before it's on sale…
Dead Drop turned out to be Book 6 in the My Immortals series. Demons instead of Dukes. It's a short novel, at 42,000+ words.
I'm writing what I guess I have to start calling Book 7 in the series now. I have no buy links for Dead Drop yet since I don't quite have final files yet. Sometime in the next two weeks. The on-sale date will be December 20th.
How, you are wondering, might you have the chance to read this before the book is on sale? Well, I set up a members-only section of my website, and I'm posting the chapters there every few days. Files are subject to update as I play whack-a-mole with typos lurking in the proofreading rounds.
If you happen to subscribe to my newsletter, you will get the login and password to the members only section and can start reading now. If you want. I've posted through chapter 6. I believe Chapter 7 will go up sometime tomorrow or the day after.
You can subscribe at my website.
There. That's all the book news.