At the end of the month I will be traveling to Scotland with Kristine Hughes Patrone of  Number One London Tours. We'll be joining her Scottish Writers Retreat in Glasgow the second week, but first we'll visit Edinburgh and sites between.
In August 1822 there was another momentous visit to Edinburgh. George IV traveled to Edinburgh on the first visit by a reigning monarch since King Charles I in 1633. The visit was encouraged by government ministers, because they wanted to keep Prinny from attending the Congress of Verona where the fate of post-Napoleonic war Europe was being decided.
There was another good reason for the visit, though. Scotland had been humming with unrest and the government was eager to avoid the revolutions that had rocked America and France. Even though George IV was rather unpopular, his visit was promoted by none other than Sir Walter Scott, who had been invited to dine with the King after the release of his popular novel, Waverley, which presented a romantic view of the Scottish Highlands that must have captivated Prinny as well as the general public.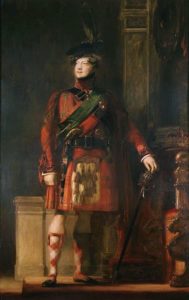 Sir Walter Scott worked with others to plan the royal visit which was filled with the sort of pageantry that Prinny loved. Scott persuaded Prinny that he was entitled to call himself a Highlander, because of his Stuart bloodline. The King promptly ordered a highland outfit of bright red Royal Tartan, which he is shown wearing in the idealized portrait by David Wilkie.
I will be flying from London to Edinburgh, but Prinny arrived for his visit by ship and was met with the promised celebrations that had sent lowlanders and highlanders scrambling for the proper kilts. The celebrations lasted a little more than two weeks, almost exactly the amount of time I'll be in Scotland. It also rained a lot and I am hoping that is not true for my visit.
I'll be thinking of Prinny as I walk in his footsteps, walking the Royal Mile from Holyrood to Edinburgh Castle.
I just hope I won't be carrying an umbrella?
Have you visited Edenburgh? What should we not miss seeing?
Read Diane's latest!
A Lady Becomes a Governess, July 2018, Book 1 in the Governess Swap Series
Available now from online vendors.