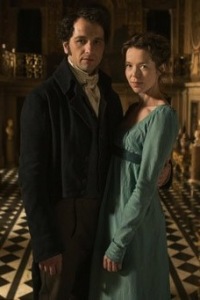 Who else is planning to watch Death Comes to Pemberley next Sunday? I thought the book was not one of PD James's best, but quite often not so good books make good tv, so I'm cautiously optimistic. Here's the preview. What do you think of Matthew Rhys/Anna Maxwell Martin as the dynamic duo?
More Austen news–I attended the JASNA (Jane Austen Society of North America) AGM in Montreal a couple of weekends ago and here are a few pics:
An amazing bonnet, with a booklet on how it was made, being offered at silent auction. It would be the sort of item that, if you could afford it, would have to be placed reverently under glass and gazed upon:
The view from my hotel room, early in the morning:
We gather, most of us all dressed up, for a banquet and ball (there were French officers [!!!] with very interesting headgear in attendance, but you'll have to take my word for it because naturally I didn't get any pics of them):
Old Montreal on a lovely sunny day:
And back to the topic of tv, did you see the amazing edition of NOVA this evening, Ben Franklin's Balloons, in which French people, some of whom were descended from the Montgolfier brothers, and most of whom wore very stylish scarves, successfully duplicated early balloons and flights. You can view the preview here.
And now for the mystery household purchase:
Class Five Flushing Technology Provides Tremendous Bulk Waste Flushing Performance And Best-In-Class Bowl Cleanliness
Pure poetry.
And can you explain why not so good books make the best tv?