One of my weekly joys is singing with my church choir. Our church is small, and so is our choir, often only six or eight people, just as I imagine a small rural parish church choir in Regency times might have been. But did you know that music in the country parish churches of Regency England was very different from what you find in churches today? I fell down this fascinating rabbit hole while doing research for my not-going–to-be finished-for-Christmas-after-all holiday story, The Lord of Misrule.
Since the heroine of LOM is a vicar's daughter, I've done a lot of church-related research for that story, and am now familiar with the reforms that came with the Victorian era and the Oxford Movement in the Anglican Church. Many of those Victorian era changes have lasted into our times, and they can be a roadblock when one tries to recreate an earlier time. In a country parish church of the Regency era, it would  be rare or unlikely for you to find an organ, or hymnals, or even a choir in exactly the same sense we hear today.
"West Gallery Music" evolved in response to the need for guided singing in local church services, where there were few organs, and no trained musicians or choirs to lead the music. During the Reformation of the 16th century, organs in churches were destroyed as part of the rejection of Catholicism. Under Cromwell, English churches continued to suffer abuse, and organs were not replaced. Organs did not become popular in churches again until the middle of the 19th century!
In country Anglican churches 1700-1850, and in non-conformist churches even later, to 1860, the joyful and vibrant traditions of the West Gallery music reigned. A relatively modern term, the name comes from the galleries where the choirs sat. During the Georgian era, population was expanding and in the villages, church attendance was a major part of life. Galleries were added to the interiors of the small churches to provide additional seating, or at least open seating not owned privately, as most pews were. These were sometimes built along the sides, but the west end was usually the province of the choir.
Essentially, these untrained choirs consisted of a band with instruments and singers, and while their music could sometimes feature complex harmonies, most of the time the pieces (psalms most commonly, but also anthems and even Christmas carols), were simple, for many in the choir could not read music –even if they could read words. Instruments included whatever strings, woodwinds, or brasses might be available among the village folks or that the church was able and willing to purchase. Each instrument might anchor a section of voices, the treble parts and bass parts, for instance. The bands that played Sunday mornings also were called into service for village festivals and assemblies or any other special occasions.
Women were not allowed to sing in standard Anglican church choirs. The practice of fulfilling the high range voices with boys and young men led to the formation of many "boy choirs" who sang in the cathedrals and large city churches. However, the painting of "A Village Choir" by Thomas Webster (shown at the top) dates from 1840 and definitely shows women participating. Is it because the choir depicted sings in a non-conformist (non-Anglican) church? Or because it is from a later date? (maybe both?) I have not been able to confirm if women would have been singing in a Regency choir, at least on a regular basis. One argument made against it was simply that it would be improper for young women to be isolated away from the rest of the congregation with all the choir men up in the gallery!!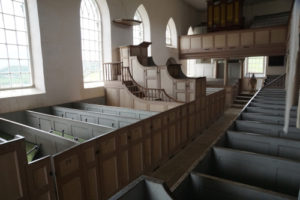 By the 1850's the West Gallery music was starting to decline, falling into disfavor because it was not considered "solemn" enough, and the trend to restore churches back to their "original" state was beginning to gain traction. Galleries were torn down and removed. Much of the music was lost or destroyed. However, in the 1980's, a revival of this musical form started in Britain, and has spread into the U.S. and Australia. Local "quires" have sprung up, devoted to performing this unique music. Britain's West Gallery Association provides a sort of loose central organization and resources. If you'd like to learn more about these groups, and/or the music and history, here are some good website and article links:
http://www.wgma.org.uk/Articles/intro.htm   (West Gallery Association site with a good overview)
http://www.rodingmusic.co.uk/info/wginfo.htm
http://www.immanuelsground.com/wgmusic.htm
https://en.wikipedia.org/wiki/West_gallery_music
I am disappointed and also offer apologies that I won't be able to offer The Lord of Misrule to my readers for Christmas!! It was rolling along quite well, but a double whammy of health issues for myself and for my husband has slowed me down too much to make it feasible. I will keep folks posted about when it will actually be finished and available!
In the meantime, had you run across the West Gallery music tradition? My heroine in LOM (along with her married friend) actually gets drafted to sing in the choir to substitute for a missing choir member, but normally women would not be allowed, in that village and that church. I always say that research is imperfect at best, and a writer can make anything happen as long as it seems logical and believable.
Best wishes to everyone for the holidays, and Happy New Year! (Sending these now since I won't be blogging again until January –and we are anticipating making some changes here at Risky Regencies, so who knows?? Thank you for visiting us here and for reading.