When I posted "Part 1" of this article a month ago, I promised we'd talk about curling, bandy, and skiing as additional winter sports. Because Regency romance fiction tends to focus on the elegant upper class and aristocracy, particularly in England, we seldom find these sports depicted in the pages. But that doesn't mean they weren't being practiced somewhere, especially among the working classes. Despite the fact that they had little free time, we've seen throughout history that working people and the poor were inventive and also made the most of whatever free time they had to enjoy. But curling in Scotland was a sport of all classes.

Curling was practically a national game in Scotland by the Regency period. The records of Paisley Abbey, Renfrewshire, contain the first-known written record of the sport (as a contest using stones on the ice), in an entry from February,1541. Although other early names for it in Scotland included quoiting, kuting, or coiling, most sources seem to agree that the first published use of the term "curling" as a name for it comes from a 1620 poem by Henry Adamson, where his mention of it is made in listing a gentleman's favored activities. The name comes from the verb curl (Scottish and English), which describes the way the stone moves. The game is sometimes called "the roaring game" after the noise the stones make sliding over the moistened playing surface of the ice.
Whether curling first originated in Flanders or Scotland is still debated. The first publication specifically devoted to the game, by the Rev John Ramsey in 1811 (Edinburgh) opined that terminology used in the game had roots in German and Dutch language and so attributed it to Flemish immigrants to Scotland. But others have made equally strong cases against his logic.
Either way, the sport's antiquity can be traced by the evolution of the stones used for it. A museum in Scotland has a curling stone marked 1511, the oldest "dated" example known, found at Stirling, and another dated 1551 from the bottom of a pond in Dunblane, Scotland (although the etched dates were probably added at a later time). Known as a finger stone, "kuting-stone", or even, in some locales, a kutystane, piltycock or "loofie", the primitive smoothed stones feature indentations cut for thumb and fingers and were probably thrown into motion on the ice. By the Regency, some people were already collecting these old ones and interested in the history of the sport.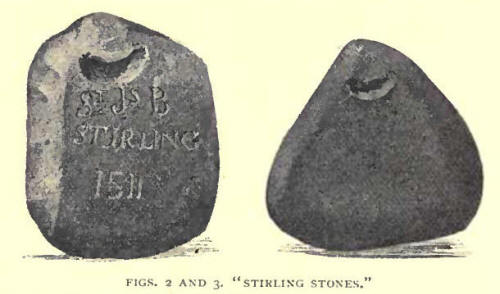 One is described as whinstone 8 ½ inches in diameter and weighing some 14lbs. Later the stones grew much larger and heavier, known as "rough blocks" and prized ones often were given individual names as a reflection of their character and effectiveness along with personal regard by their owners. (An account of this can be found in an 1890 book on curling history.) Some had a hole bored in the center to allow the attachment of wood or iron handles, and others had double or even triple handles set in. At weights ranging from 30 pounds to over a hundred pounds, the handles are understandable. By the late 18th century and early Regency, these stones began to develop into the round, finely streamlined and scientifically weighted "stones" used in the sport today. Imagining the brawn required to handle those old stones might be enough to make a young lady swoon!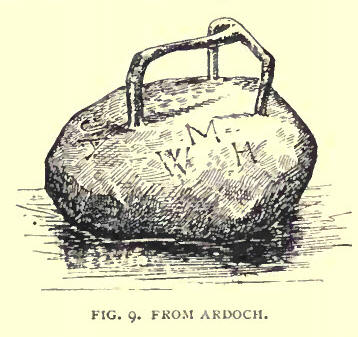 The growth of curling's popularity in Scotland is attested by the formation of the Kilsyth Curling Club in 1716, a club still extent and claiming to be the oldest of its kind. By the Regency period there'd been a proliferation of clubs in Scotland. The game also went to Canada, likely with Scottish immigrants, where the Royal Montreal Curling Club was formed in 1807, the oldest sports club still active in North America and founded firmly in the Regency period. The first "official" rules for the modern version of the sport were drawn up in 1838. Old curling stones have been found serving as doorstops and bootscrapers, weights for thatch roofs, and embedded in old building walls as well as in museums!
This picture is a painting by Bruegel, from 1565, showing Flemish peasants "curling" by hand (no brooms). Scotland and the "Low Countries" did lots of trading, so it's no surprise they would pass along the sport as well. (Note there's a child on a sledge in the center foreground!)
When "sweeping" with brooms began to be used as part of the game (and not just to clear the ice) I am not sure –possibly during the 18th century. You can clearly see them in the Scottish picture from 1835 at the top of this blogpost. Below is a second picture by Bruegel that depicts people curling, also from 1565. Perhaps the ice was particularly good that year?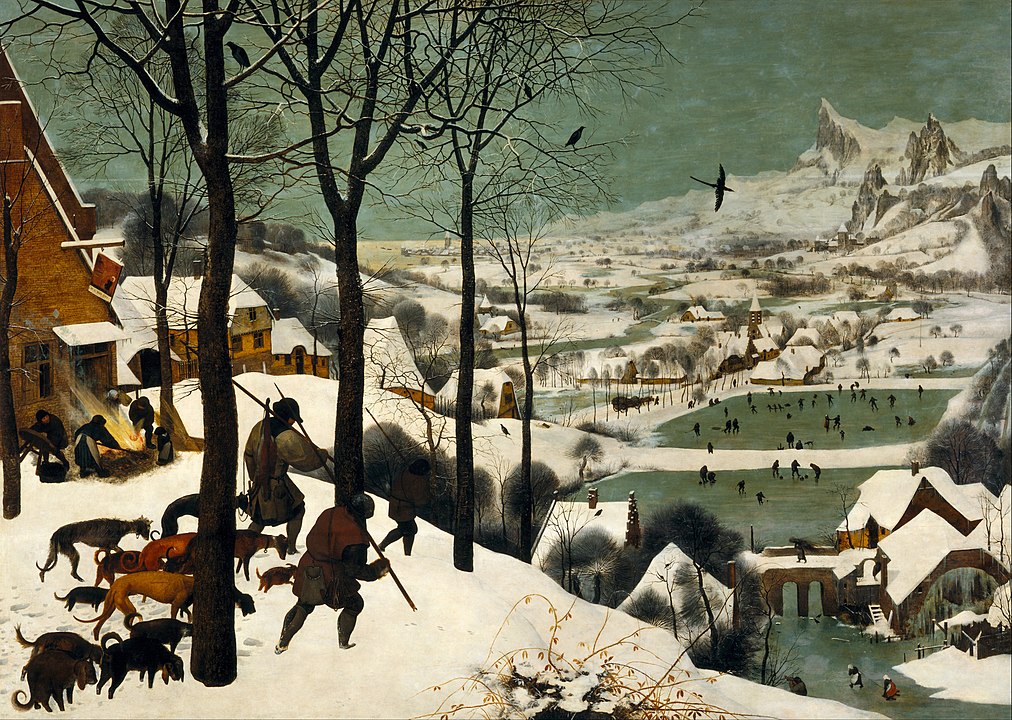 Weather is absolutely one of the main factors that determined where all of these winter sports developed. References are made to the "Little Ice Age" from 1500-1700 related to some of these sports developing. For much of the Regency, there was little snow in December/January in most of England (Scotland and other areas would be different, of course). Scotland always had dependably sturdy ice in winter for winter sports like curling, unlike her southern neighbor. But famously, the winter of 1813-14 in England had terrible weather at the end of December and frigid cold right through until early February.
Known as "the Great Frost of 1813–14" (because besides snow there was a lot of freezing fog), these weeks spawned the last-ever Frost Fair held on the River Thames in London and also give us the first records of "bandy" being played as an organized team contest in the fens area where winter skating was common. Bandy is a precursor/variant of ice hockey which uses a ball and seems to date (in England) from at least 1801, but probably dates back into the 18th century. The shallow washes and flooded meadows in the fens area provided large open areas of ice where chasing a ball with sticks while on skates was not only feasible but seems a natural invention for young boys.
The sport derives from an earlier 17th century Irish version similar to field hockey, which used curved sticks also called bandies. The name probably derives from a Middle French verb, bander, which means "to strike back and forth." The names shinty or shinney were also sometimes used for it in English in the earlier times, perhaps a Scottish influence as the name in Scottish Gaelic is "ice shinty" (camanachd-deighe). In modern times shinty has come to refer only to the game played on land and bandy to mean specifically the ice version. The lack of extensive historical record on this game prior to 1813-14 does not, to my mind, mean no one was playing at it, just that due to the specifically limited geographical area, no one was paying attention, and also I believe it was primarily a working class entertainment.
Skiing has the most ancient pedigree of any of the winter activities I've covered here, although its arrival as a "sport" is actually later than any of the others I've discussed. Skis dating back to 6,000 BCE have been discovered in Russian peat bogs and there's evidence of equally or even more ancient ones in China. Rock paintings and carvings from 3,000 BC and 2,500 BC have been found depicting skiers in Scandinavian countries. Norse mythology dating back to writings in 1300 BC introduced Ullr and Skade, the god and goddess of skiing.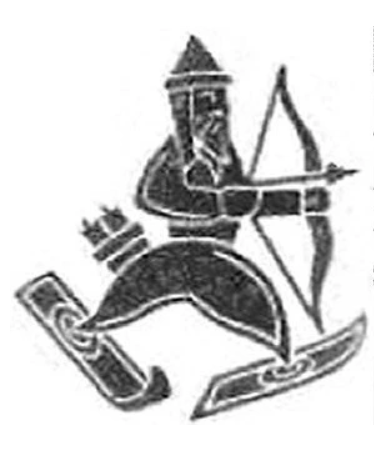 In 1206 AD a war-time skiing rescue spawned a famous Norwegian legend when military Norwegian skiers carried the 2 year-old heir to the throne across mountains to safety. By the 17th century accounts of skiing in other countries appear, and in 1716 a war between Russia, Sweden and Norway was fought primarily on skis. The need for improving ski speed in this century led to advances in both technique and construction, and military exercises and training led to the first types of competitions.
By 1800 in Norway skis were shaped to be narrower in the middle and wider at the ends, which improved maneuverability. Further into the early part of the 19th century, the cambered ski was invented. Lighter and concave at the center, this new type of ski distributed the skier's weight better and also improved the shock absorbing capabilities of the skis. Norwegians emigrating to other parts of the world introduced skiing to other cultures.
But skis were still a mode of transportation, not recreation. One of the first recorded instances of skis used for recreation happened in 1841 in Beloit, Wisconsin, USA. In 1843, the first recreational skiing race was held in Norway. Twenty years later, alpine ski racing began as an organized sport in both Norway and the U.S. Downhill racing, as we know it today, really was not begun until the 1920's, in the Swiss Alps. Today the UK has 77 ski resorts, not all in Scotland, but in the Regency, in the relatively flat British Isles, skiing was not a winter activity pursued for pleasure.
Do you enjoy winter sports? Do you participate in any, or are you a spectator like me? Frankly, I must admit that I prefer to watch them from the comfort of a warm chair in a cozily heated room. But perhaps if a sinfully handsome Regency buck were to entice me, I might be willing to go out and play in the snow. Happy New Year to everyone!