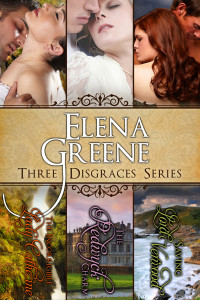 While my critique partners and beta readers have been reviewing Lord Langdon's Kiss, I've been working on another project: reuniting my "Three Disgraces" Regency series in an ebook bundle.
Comment on this post for the chance to win one of 5 copies on either Kindle or Nook. (Apple and Kobo are still in the works.)
The Three Disgraces includes reissues of The Incorrigible Lady Catherine, The Redwyck Charm, and Saving Lord Verwood. Although many Regency ladies were educated by governesses at hom, my three heroines met at one of those select schools for girls we sometimes read about. Although they're very different in terms of birth, interests and temperament, none of them quite fit in for various reasons. And so they developed a warm friendship while defending themselves against the catty set at the school.
I had so much fun writing this trilogy. I didn't really plot ahead, other than coming up with the issues each heroine would have to deal with and what sort of hero would challenge her the most. Somehow it all came together.  I've mostly written standalone books, but I have to admit it's also a lot of fun to spend some time with characters you loved in a previous book, and help beloved secondary characters get their own stories.
Now I'm contemplating another series. This one involves more characters over a longer period of time, so I'm thinking I should maybe plan a little. Luckily, I have a writers' retreat coming up which will be a perfect time to brainstorm.
Do you enjoy series? Why or why not? And for my fellow authors, how much planning do you do up front for your series? Any tips and tricks?
Elena
www.elenagreene.com