This month, I'm continuing my series of ebook sales for good causes. The Redwyck Charm is currently on sale for just 99 cents.
Here's the blurb:
Marcus Redwyck, Earl of Amberley, reluctantly agrees to wed an heiress in order to save his estate. But his equally reluctant bride, Juliana Hutton, runs away and masquerades as an opera dancer. When they meet, passion leads them to the edge of scandal. Even when all is revealed, it will take all of Marcus's resolution and the fabled Redwyck charm to win the spirited Juliana's heart.
I realize that it's a bit of a stretch for a properly raised young woman to impersonate an opera-dancer. I work around that a bit by not having her dance that well! But also I did have some historical justification. In The Mirror of Graces (by a "Lady of Distinction, 1811) I read that young ladies sometimes took ballet-lessons to improve their ballroom performance.
"Extraordinary as it may seem, at a period when dancing is so entirely neglected by men in general, women appear to be taking the most pains to acquire the art. Our female youth are now not satisfied with what used to be considered a good dancing-master; that is, one who made teaching his sole profession; but now our girls must be taught by the leading dancers at the Opera-house.

"The consequence is, when a young lady rises to dance, we no longer see the graceful, easy step of the gentlewoman, but the laboured, and often indelicate exhibitions of the posture-mistress. Dances from ballets are introduced; and instead of the jocund and beautifully-organized movements of hilarity in concord, we are shocked by the most extravagant theatrical imitations. The chaste minuet is banished; and, in place of dignity and ease, we behold strange wheelings on one leg; stretching out the other till our eye meets the garter; and a variety of endless contortions, fitter for the zenana of an eastern satrap, or the gardens of Mahomet, than the ball-room of an Englishwoman of quality and virtue.

"These ballet dances are, we now see, generally attempted. I say attempted, for not one young woman in five hundred can, from the very nature of the thing, after all her study, perform them better than could be done any day by the commonest figurante on the stage. We all know, that, to be a fine opera-dancer, requires unremitting practice, and a certain disciplining of the limbs, which hardly any private gentlewoman would consent to undergo. Hence, ladies can never hope to arrive at any comparison with even the poorest public professor of the art; and therefore, to attempt the extravagancies of it, is as absurd as it is indelicate."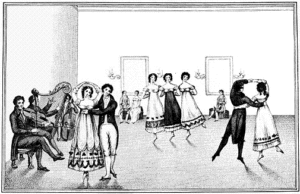 The picture above is a waltzing scene from La Belle Assemblee, February 1, 1817 which I think clearly shows the influence of opera-dancing on social dances.
This was a fun book to write, definitely in the category of "romp". It was also a stretch for me to write a heroine like Juliana, who did things I'd never have dared. One reader did complain that Juliana is spoiled. But the way I look at it, even now a woman can be born to wealth and material advantages but still have to fight to determine her own destiny.
When Juliana is faced with the prospect of a marriage of convenience with Marcus, she is finally swayed by the fact that he needs her money to save his estate from falling into the hands of a man who would neglect his tenants for a quick profit. Juliana's compassion surpasses her personal desires (at the time at least—once she realizes she's in love with Marcus, it's all good).
So I think it is fitting to donate the proceeds of this sale to the Flint Child Health and Development Fund, dedicated to the "long term health and development needs of Flint children exposed to lead". If you are not familiar, here is some background on the Flint water crisis and a more recent update.
The ebook version of The Redwyck Charm is on sale at Amazon, Barnes & Noble, iBooks and Kobo.
If you'd like to donate directly, go to Flint Kids and just use the "Donate" button.
Do you like "heiress" stories? Do you have any favorites?
Elena