Do you read holiday romances? I do. I read them, and re-read them when the season comes around, and keep adding them to my collection. Addicted much? I admit it. But I have questions for you.
1) Since these stories often center around Christmas activities, do you read them even if you are not of the Christian faith?
2) Does the historical context of the period make the "religious" parts of these stories, if there is some, acceptable if you don't like "inspirational" romances?
3) Do you read them at any other time of year??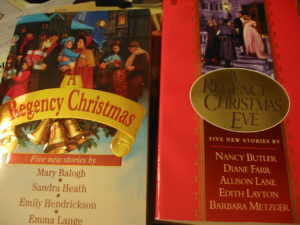 You may wonder why I am asking all these questions! I have been working on my first "holiday romance" –a Regency set in the countryside over the 12 days of Christmastide, starting on Christmas Eve day and ending on Twelfth Night. But my major medical issues and those of my husband are interfering with my ability to get it done when I had hoped, and I am considering releasing it AFTER Christmas. So here's my biggest question:
–would you buy a holiday romance after the holidays?
Book sales usually decline during December, when folks are too busy, and they tend to pick up afterwards –I guess people have time to read again once they get through the press of getting ready and celebrating!! But I would love to know if you think it would be lame to release a holiday story after Christmas, say for Twelfth Night (January 6) instead?
LOL, that's if I can even make that deadline. But I'm considering it. My poor characters really want their story to get out there, and not have to wait until next year!! I would love to know what you think.
THE LORD OF MISRULE: On a snowy Christmas Eve day, a vicar's daughter runs into the Devil himself, or is he just the Lord of Misrule? In a season of miracles and magic, can love bind two unlikely hearts in the days leading to Twelfth Night?
Save