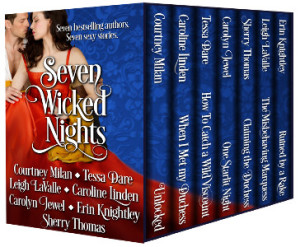 Some of you may know that I'm the elf who maintains the book links in our sidebar and also our Risky Books page.
I was busy for most of an afternoon yesterday updating things, so that's what I'll talk about.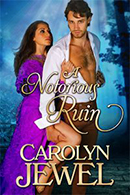 First off, Carolyn is now a USA Today Bestselling author! She has a story in Seven Wicked Nights, along with fellow authors Courtney Milan, Tessa Dare, Leigh LaValle, Caroline Linden, Erin Knightley and Sherry Thomas. This ebook set is still just 99 cents, so snap it up while you can!
Also from Carolyn this month is the eagerly awaited 2nd book in her Sinclair Sisters series, A Notorious Ruin, Lucy and Thrale's story.
A bunch of us have new titles coming up, all available for preorder.
In October we have:
a new Renaissance romance by Amanda, Betrayed by His Kiss.
and Regency Masquerades, an ebook set including stories from Elena and Gail, as well as Brenda Hiatt, Lynn Kerstan, Allison Lane and Alicia Rasley. This one is also 99 cents, so preorder now!
And our November releases include: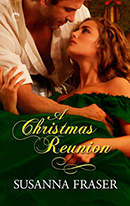 A Christmas Reunion, by Susanna, for the lovers of Christmas novellas,
and Megan's The Duke's Guide to Correct Behavior, a "Dukes Behaving Badly" novel. Who can resist that?
Now I am going off to have a cup of tea, to rest after doing all these updates.
Riskies rule!
Elena